THE ALL-STAR COMPENDIUM
Installment No. 1
by Roy Thomas
From Alter Ego Vol. 3 #7
A Few Instant Corrections to the All-Star Companion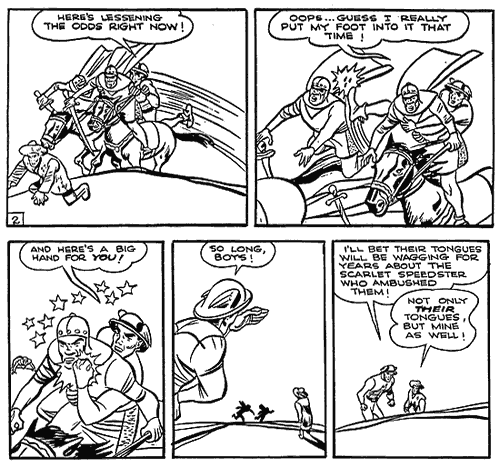 For technical reasons, at the eleventh hour, two tiers (rows) of Flash panels from the never-published 1945-46 Justice Society story "The Will of William Wilson" had to be omitted from The All-Star Companion. For the full details on these panels, be sure to check out Alter Ego #7! (Flash © 2001 DC Comics.)
Well, The All-Star Companion is finally out, after a two-year struggle- only a few weeks before this issue of Alter Ego hits the mails and the comics shops. Unavoidably, it seems, a few errors slipped in, and this space will be used to list corrections. Naturally, while the book was being printed, and as soon as my own copies arrived by UPS, I found a few mistakes myself, so, with the last-minute forebearance of Jon B. Cooke and John Morrow, I'm shoehorning them in here. The page numbers below are those in The All-Star Companion:
Page 14: All-American Comics seems to have been our particular jinx. First we typoed that the "Ultra-Man" feature began in All-American #18; in truth, it debuted in #8 (and lasted through #19).
Page 15: Another Ulra-typo: The pseudonym "Don Shelby," used as the credit on "Ultra-Man," is of course an anagram not of "by Shelly," as stated, but of "by Sheldon." Typo or no typo, the main point was that the pen name stood for AA editor Sheldon (Shelly) Mayer.
Page 22: Despite an account I once read somewhere and repeated in the Companion, there seems to be no hard evidence that Dorothy Roubicek ever scripted a "Wonder Woman" story in the 1940s. However, as script editor of the All-American line from 1942-44, she probably did rewrite a bit of dialogue and captions from time to time. And, as detailed by Les Daniels in Wonder Woman: The Complete History, she was kept busy by AA publisher M.C. Gaines, coming up with suggestions as to how Diana and other females in the tales could be "confined or enclosed" and still "cut down the use of chains by at least 50 to 75% without at all interfering with the excitement of the story or the sales of the books." Surely that's got to count for something!
Page 26: Howard Ferguson's precise JSA credits were left off his bio-entry. He is presumed to have contributed to the inking of the Simon and Kirby "Sandman" chapters in All-Star #14, at least.
Page 27: Due to a sloppily-worded phrase of mine, it is unclear whether some of the newspaper comic strips officially drawn by Frank Giacoia had actually been ghosted by himself for other artists, or by others for him. The latter was the general case, as covered in this issue's interview with Julie Schwartz. (In fact, the more I look at the last few issues of the Golden Age All-Star, the more I wonder if perhaps Mike Sekowsky wasn't involved in them, as well, with Frank getting the assignment and then having Mike bail him out on penciling, as Sekowsky often did, with Frank inking. Either way, it's nice-looking work.)
Page 31: Due to a badly-placed prepositional phrase, the impression is given that Mart Nodell used the pen name "Mort Dellon" on various comics features he drew circa 1940; in truth he used it only on early "Green Lantern" stories. Also, Sheldon Moldoff's first Green Lantern story was in All-American #16 (not #17), and the All-Star cover he drew was #11 (not #10).
Page 45: I stated that "From #3-37... at the end of each solo chapter, the reader is urged to read more of that hero's exploits in each issue of an anthology title" (such as Flash Comics, etc.). Instead of "each," I should have written "many." Those bottom lines were dropped totally from #26-29 and #35.
Page 60: Actually, it was Chad Grothkopf, not Paul Norris, who drew the 1941 "Sandman" story in which that hero first sported a purple-and-yellow costume. Norris illustrated the next couple of "Sandman" tales, after which Simon and Kirby took over. My main point, of course, was to correct the oft-stated misimpression that S&K were the ones who gave Sandman a tight-fitting costume and introduced Sandy.
Pages 71-72: Contrary to a parenthetical phrase, it's unlikely that any Junior JSA members were "edited out" of the Spectre and/or Johnny Thunder chapters of All-Star #16; I was confusing that issue with #17, where already-completed chapters were shortened due to a decrease in the story's page count.
Page 90: It was Hawkman, not Wonder Woman, who narrated the story of Dick Amber in All-Star #24... but it was the Amazon who told Flash and Green Lantern that they'd be so proud of the JSA that they'd become "fighting members" again.
Page 125: Should have mentioned that "Page U" of the JSA finale to the "lost" story "The Will of William Wilson" had been previously printed-with Yours Truly as editor-in Last Days of the Justice Society of America Special (1986).
Page 186: Hawkman's name was somehow left off the list of JSA heroes who appeared in Justice League of America #37-38.
Page 194: Gerry Conway is stated here to have become the regular writer of Justice League of America in 1980; in truth, he did so by 1978, as correctly noted (twice) on Page 190.
There! That wasn't too painful. Only thing is, that's only the mistakes I caught at the 13th hour. Next issue we'll hear from the rest of the world. Fortunately, I don't think too many of the errors are important, but I've been too aggrieved in recent years by comics-related misinformation being passed on as gospel in hardcover volumes, and thus rarely corrected, to want to sweep anything under the rug myself.

Sign up here
to receive periodic updates about what's going on in the world of TwoMorrows Publishing.

Click here to download our new Fall-Winter catalog (2mb PDF file)
Howard Keltner's Golden Age Comic Books Index is the premier references for Golden Age comics! Bob Klein worked with Howard to make this edition available, just before Howard's untimely death in 1998. Howard's widow has graciously given us permission to give the index away for free for all to enjoy!
Click here
to view! (1.5 MB file.
Adobe Reader
required.)