Our
Army

GODS At War
How the combat tactics Kirby learned in World War II might have shaped his super-hero battles
by and © Robert L. Bryant Jr
From Jack Kirby Collector #24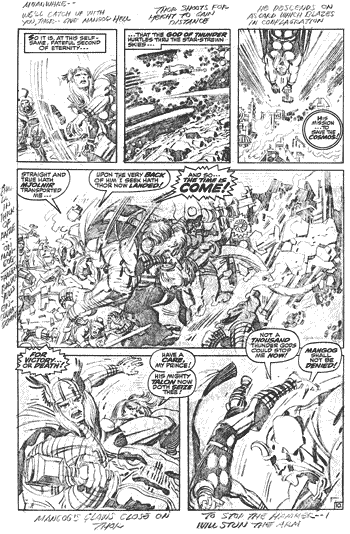 Thor enters the Mangog battle in these pencils from Thor #157, page 10. All characters ™ and © Marvel Entertainment, Inc.
Did you ever read the Kirby comic in which a tough sergeant and a raw recruit teamed up to destroy a Nazi terror weapon that had gotten loose behind US lines? Sure you did. It was New Gods #6: "The Glory Boat."
Orion as the grizzled noncom and Lightray as the uncertain private? The Deep Six as S.S. officers? A mutated, horned whale as a war machine? Of course—this issue spotlights Kirby's greatest battles, and surely the greatest of them all was his service in World War II's European Theater and the 1944 Normandy invasion. Did Kirby's infantry battles for a world at war influence the super-hero battles he would plot and draw decades later for a world at peace?
Kirby was a PFC in Patton's Army, just a grunt with an American flag patch on one shoulder and an M-l carbine over the other. He wouldn't have been privy to planning the battles, but Kirby was as much a student of war as of everything else; he knew, the hard way, how men at arms thought and fought; he knew, the hard way, how it felt to be part of the biggest war machine ever formed on Earth. The war stayed in Kirby's nightmares, according to interviews with his wife, Roz, and we can make a pretty good case that it also stayed in his stories of the Fantastic Four, Thor, and New Gods. Some cases in point:
New Gods #6, "The Glory Boat"
The plot: The Deep Six, finny henchmen of Darkseid, have mutated a whale into a pinkish, horned mountain of death and turned it loose on the seas of Earth. Orion and Lightray, coping with three chatty noncombatants—one of them, like Kirby, a Normandy vet!—find the Deep Six's "control ship" and start improvising. They rework the ship's biological "brain" so it'll lure the big fish back, fight a skirmish with the Six and then blow them all to hell with a mega-bomb reshaped from the control ship itself.
The World War II analogy: A Nazi division has set loose a terror weapon behind our lines—or better yet, a division of super-Panzer tanks. Opposing it are only the lightly armed "Sgt. O'Ryan" and his sidekick, the naive "Pvt. Ray." The sarge knows a frontal assault will fail, especially with three civilians tripping over things. So he seeks out the Nazis' (empty) forward command post, which holds all the equipment he needs to booby-trap the whole complex. O'Ryan finds a way to signal the tanks back to the post, then kaboom!—more or less what Patton's boys might have done.
(Unresolved issue: In the story, Kirby pointedly makes the rescued businessman, Farley Sheridan, not just one of his contemporaries, not just a fellow Army veteran, but specifically a Normandy vet. Nobody walked away from that piece of French coastline without looking death in the eye, but Kirby depicts Sheridan as a fool and a coward; the son, Richard, is painted as the cool, brave one, even though he's a "conscientious objector." Kirby's commentary not on World War II, but on Vietnam? On the old soldiers who wanted their sons to fight that pointless war for the wrong reasons? "You won't change!" Sheridan tells his draft-age son. "You'll never fight when duty demands it!" But of course, he does, even as his dad freezes in fear at the sight of Jaffar and seemingly goes insane.)
Fantastic Four #86, "The Victims"
The plot: Stripped of their powers by Doctor Doom, the FF are trapped in Doom's Latveria home court just as the good doctor's army of homemade robots breaks loose. The FF fall back and try to organize the local villagers against the robots. Finally, forced into a last stand, the heroes find a way to use Doom's hidden technology against the marauders, and giant underground fans (every European village has some) whoosh the mechanical men into a lake.
The World War II analogy: A small American squad, its weapons or ammunition lost, is trapped behind German lines in France. Capt. Reed Richards finds shelter for his people with Resistance villagers as hordes of Nazi troops advance on the town. The Americans try to organize and arm the villagers, retreating until they can jury-rig a last-chance offensive against the enemy. (No giant underground fans in World War II... but the rustic Latverian town in the story is almost a dead ringer for the French villages Kirby would have seen after the 1944 invasion.)
Thor #154-157, Mangog vs. Asgard
The plot: The Mangog, distilled essence of a "billion billion beings," escapes from his Odin-imposed imprisonment and makes a beeline for Asgard, there to unsheathe the Odinsword and end all life in the universe. Thor and his allies battle him all along the way, to no avail, and Mangog grasps the enchanted sword, only to again be slapped down by Odin's wrath.
The World War II analogy: None. The Nazis never sent a super-commando squad to assault Washington or anything like that. But the storyline turns on a military question: How do you assault a large, well-defended installation? Mangog knows how—he uses a variation of the US infantry's standard "flank and fire" maneuver, attacking and dodging, feinting and running, until he's drawn out all the defenders and he's standing at the doorsteps of Asgard (but Odin is a power not listed in the military manuals).
There are other examples: In New Gods #7 (1972), "The Pact," Kirby indicts the mentality of organized warfare, in which a technological breakthrough (Metron's X-Element) opens the door to full-scale war between New Genesis and Apokolips, with one terror weapon being trumped by another in an endless spiral. (Although in World War II, a technological breakthrough—the atomic bomb—ended a full-scale war, it was a different world in the 1970s. The older brothers of the kids reading Kirby comics were being shredded in Southeast Asia, and US technology, like those Bell Huey helicopters, was only getting us in deeper.)
But when Kirby takes a more narrow focus—the foxholes, not the Generals' war plans—his war stories generally sound similar notes. In Kirby's comics, ingenuity nearly always defeats a superior force—particularly the kind of ingenuity that turns an enemy's own weapons or equipment against him. That might be a lesson Pvt. Kirby absorbed somewhere in the Normandy hedgerows.
(The writer gratefully acknowledges Stephen Ambrose's "D-Day" and "Citizen Soldiers " for their insights into World War II and those who fought it.)

Sign up here
to receive periodic updates about what's going on in the world of TwoMorrows Publishing.

Click here to download our new Fall-Winter catalog (2mb PDF file)