Remembering Gil
A Very Personal Reminiscence of Gil Kane
by Roy Thomas
From Alter Ego Vol. 3 #4
Photo of Gil Kane holding court at the 1997 San Diego Comic Con.
[Courtesy of Tom Stewart.]
[NOTE: Two issues ago, I transcribed some personal thoughts about Sub-Mariner creator Bill Everett. He and Gil Kane were far and away the two Golden Age comics talents with whom I've had the closest relationships over the years, partly because I'm a decade or so younger than most of them. The following piece was much harder to write than the one on Bill Everett... for Bill has been gone from us for more than a quarter of a century, while, as I type these words, Gil's passing is less than two weeks past. Perhaps a bit of time, a bit more perspective, would benefit this memoir.
[However, after being deluged with requests to say something about him for widely disparate publications, I decided to delay a couple of items originally scheduled for this issue and to write about Gil, instead. I apologize for the fact that, with the deadline looming, I was unable to polish this piece as much as I might have liked, or to put everything in strict chronological order, or to provide precise times and dates for everything.
[As in the case of the Everett piece, this article is in no way an attempt at a biography, even a brief one, of Gil Kane. His more than half-century career has been covered in many articles and interviews over recent years, with doubtless more to come. I myself was probably one of the last to interview him, in an hour-plus phone conversation in mid-1999 which was intended by mutual consent to discuss not Gil's career per se, but the Golden Age of Comics as it manifested itself at various companies. The part of that talk dealing with Timely Comics in the '40s and '50s appeared last issue; the remainder, covering Gil's memories of DC and other places he worked in his youth, will appear next issue. -R.T.]
I. PREFACE

Storytellers in the story. Roy Thomas and Gil Kane, as depicted by the artist in the back-up "Tales of the Hyborian Age" strip featured in Conan the Barbarian #12. [©2000 Marvel Characters, Inc.]

For some reason Gil Kane and Bill Everett are linked together in my mind, at least in certain ways.

In point of fact, although both were friends and collaborators of mine whose careers at Marvel overlapped during the late 1960s and early 1970s, they barely knew each other.

The closest they came to "working together," I believe, was on a cover or three-as when Bill inked a last-minute cover Gil had penciled for Avengers #97, the final chapter of the Kree-Skrull War. For that illustration, which featured several Timely Golden Age heroes including Sub-Mariner, inker Bill impulsively designed a joint signature in which their elongated initials ("GK" and "BE") overlapped.

And yet, when I sat down to write a reminiscence of Gil Kane, whom I knew for more than thirty years, one of the first things I thought of was an incident which occurred shortly after Bill's death at age 56 in February 1973.

Gil told me, with some incredulity, that someone in the comics field had suggested that he write an article about Bill's life and career, with the hope that a major newspaper or magazine might print it.

Gil scoffed at the very idea. "What could I say that they'd possibly want to print?" he asked me rhetorically (I'm paraphrasing his words here, but fairly closely). "That he was a comic book artist and created The Sub-Mariner? That'd mean nothing to anybody outside the comics field." He never wrote the piece.

It was not that Gil didn't respect Bill Everett's talent. He merely felt that even The Sub-Mariner, one of the first great comic book super-heroes, was not well enough known by the general public for a newspaper like the New York Times to be interested in printing more than a short obituary. And he was probably right, given the times.

What might Gil have said had he known that, 27 years later, the Times would print a several-hundred-word article headlined "Gil Kane, Comic-Book Artist, Is Dead at 73"-or that I, and others, would be fielding phone calls from U.S. News &World Report, among other publications, for information and quotations about Gil's career and even about his and my work together.
I know he would have been surprised.
I suspect he might have been secretly pleased, even though he might not have admitted it.
Somehow, the mere thought of Gil, up on some heavenly cloud, looking down on coverage of his passing in the national media, reminds me of a remark he made when, a decade ago, he was asked to pencil the final issue of the Green Lantern series he had begun in 1959-1960.
Oh, he was going to do it, all right-because it was paying work-but he disparaged the very notion that he should feel honored about being asked to illustrate this bookend to his Silver Age work.
I insisted that it was "fitting" that he draw this last issue of the GL series.
"I must tell you, my boy," he said in that patrician tone he affected, "that I think of it more as ironic."
For, though this may surprise some who didn't know him, Gil never really liked having it thought or said or written that the apex of his career was Green Lantern.
He never cared much for that work, or for any of the DC comics of the early 1960s which brought him to the attention of early fandom and which originally made his reputation.
After all, beginning in the latter half of the '60s with his "return" to Marvel on such strips as "The Incredible Hulk," "Captain America," and then Captain Marvel, et al., all his early Jack Kirby influences and his meticulous striving after dynamic yet accurate anatomy had suddenly found a chance to emerge-and he was far happier with that work, and with the art he did afterward for Marvel, DC, and others, than he could ever be in looking at his earlier product.
All the same, the cold hard fact remains: Gil Kane will forever be more identified with the second Green Lantern than with anything else he ever drew.

II. THE LIFE AND TIMES
The New York Times article by Douglas Martin gives a fairly accurate rundown of his life, and by the time this issue of A/E comes out, most comics fans will have read it or some related account. A few salient facts, if only in order to add Gil's and/or my own take on them:
Born Eli Katz in Latvia on April 6, 1926, he came to New York with his family at the age of three.
Early on, he became not only a fan of swashbuckling movies and of pulp magazines, but also of comic strips and comic books. In A/E V3#3, when I asked if he recalled the debut of Timely's flagship title in 1939, he answered without hesitation: "My bedroom was being painted a light color of blue when I got the first issue of Marvel Comics. I remember reading it on the bed...."
At that time he would have been 13... well above the age of the typical comics reader.
At 15 he dropped out of vocational high school to become a comic book artist. His first job was for MLJ, which soon would become the Archie group but which then was headlining heroes like Shield, Hangman, and Steel Sterling. He labored on distinctly minor features such as "Bentley of Scotland Yard" and "The Scarlet Arrow."
He started out mostly not as a full artist, nor as an inker (a usual journeyman's position), but as a penciler... coming in, as he said, "at the end of the first generation" of comic book people.
Often in later days he would say that, because nearly from the outset he became and remained a penciler, he never developed certain inking skills, among which was what is called "spotting blacks"-i.e., adding black areas to the art to indicate shadows and to give weight. Gil tended either to leave his work fairly "open," without many dark areas, or else to throw in large blocks of solid black which had relatively little to do with shadows or sources of light, but which were more of a design element.
This became a part of his style, and there are a goodly number of Kane devotees who feel Gil was the only inker for his own work, with editors like Julius Schwartz, Stan Lee, and others (myself included) criticized for "burying" his pencils under heavyhanded inkers. For my part, I had an affection for his inking, but often preferred to see others ink his pencils. It was a quandary which was never fully resolved in Gil's lifetime.
Gil always disparaged his early work, as most artists tend to do... often rightly.
As he told me last year: "I wasn't all that good.... It didn't strike me then, but I look back now and I realize I wasn't serious about what I wanted to be. I mean serious serious!.... Most of the guys I knew were... evolving and developing, but without any kind of formal training or formal pressure that could have generated much better work and accelerated all of us in our situations."
Yeah, Gil talked like that all the time.
Eventually, after brief spells with various companies (he said he was on staff at Timely "for a week" around '43-44), he gravitated to National/DC, the Tiffany's of the early comics business. In 1944 he worked briefly on the "Sandman" strip in Adventure Comics-as an assistant to Simon & Kirby, he said-but added that, as soon as those two artists left for the armed services, he and the team's other assistants/ghosts were quickly fired by DC as inadequate.
After his own stint in the service, he penciled a few "Wildcat" stories for DC editor Shelly Mayer in '47-48. In fact, in the last phone conversation he and I ever had, only weeks before he died, he said he still had a "Wildcat" page that had been rejected by Mayer, and would send me a copy if he could figure out how to make the very light penciling show up well on a photocopier.
During these days Eli Katz coined the name "Gil Kane," but also used "Gil Stack" and one or two others.
Beginning about 1950-51, things were looking up a bit.
All-Star Comics had just been transmogrified into All-Star Western with #58, and Gil got a job penciling a regular feature in it called "Don Caballero," a sort of mask-less Zorro in the days when Spain ruled California. Gil rose to the occasion, turning this minor hero into a Douglas Fairbanks/Errol Flynn clone, though "Don Caballero" didn't last too long.
Westerns became a specialty of Gil's for the period when they were the coming thing. He succeeded Alex Toth on the cowboy "Johnny Thunder" who had begun in All-American Comics/All-American Western, and then (when that title became All-American Men of War) changed horses in midstream to wind up in All-Star Western-more or less as a replacement for "Don Caballero," if my memory serves me right.
Gil, an ardent admirer of Toth, threw himself into the feature, and some of his "Johnny Thunder" work bears favorable comparison with Toth's own pace-setting art. When, in 1970, he drew me a huge montage of various heroes he had drawn, Johnny Thunder was the western character he chose to depict... though he also did fine work on "Matt Savage," "Nighthawk," "The Trigger Twins"-and particularly on Hopalong Cassidy, when DC inherited the title from Fawcett. Indeed, he hung onto a couple of pages of original art of Hoppy for some years; I printed them in Alter Ego (Vol. 1) #10 in 1969-70.
He also worked on later tales of "Captain Comet," a science- fiction super-hero originated in 1951 by artist Murphy Anderson (with writer John Broome and editor Julius Schwartz)-on Big Town, a franchised comic based on a radio drama-on Rex the Wonder Dog, which was pretty much what it sounds like-and on numerous s-f series for Julie in Mystery in Space and Strange Adventures. One of his hallmarks in the latter genre was bird-faced aliens.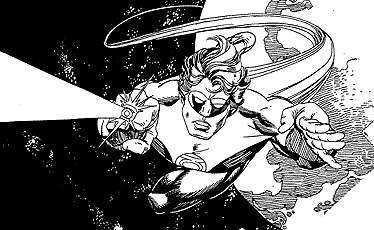 The Silver Age Green Lantern. To the artist's chagrin, Hal Jordan will assuredly always be considered Gil's trademark character. Detail of GL #123 cover. [©2000 DC Comics, Inc.]

III. GREEN LANTERN AND THE ATOM
And then, in 1959-60, on the heels of the slow but sure success of DC's revamping of "The Flash" from the 1940s, Gil was tapped to pencil the second revival hero, "Green Lantern," in three issues of Showcase (#22-24).
They were a big hit, and there was a lapse of only a few months between the Showcase debut and the Green Lantern #1. Under Julie, Gil scrapped the look of Martin Nodell's 1940s version of the hero, opting for what he meant to be a capeless green-and-blue outfit whose mid-section was intended to represent a "diamond shape." He felt that early inkers never understood what he was trying to do, and in 1998 he told The Asbury Park Press: "They always made it look like a sleeveless sweater, which bothered me no end."
He was also bugged by the fact that either editor Julie or DC production manager Sol Harrison rejected the notion of a green and blue costume, opting instead for green and black. (I personally liked the costume green and black, and thought it looked best when the highlights in the black areas were left white. Still, it's a shame that, as the artist, Gil's wishes weren't taken more seriously. But that's the way the comics biz was at the time.)
Green Lantern was only a bimonthly at first, though, so in order to get himself more work when Hopalong Cassidy, All-Star Western, and Rex the Wonder Dog all began to fall by the wayside, in late 1960 he came up with The Atom.
As detailed in A/E V3#2, the idea of a six-inch super-hero utilizing the 1940s name "The Atom" but really a revival of Quality's "Doll Man" was probably suggested first to Julie (via writer Gardner Fox) by comics fan Jerry Bails, founder of Alter Ego. However, Gil seems to have come up with the very same concept on his own, or (at most) unconsciously reacting to some vague mention by Julie of Bails' August 1960 letter.
It matters not. The Atom, after a triumphal three-issue run in Showcase, graduated at once to his own magazine. Although it never attained the popularity of Green Lantern, The Atom is still around today in a version very close to Gil's; and, while Green Lantern has been severely altered, he still owes a lot to the Schwartz/Broome/Kane vision of forty years ago.
Despite a bit more success and job security at this juncture, however, Gil became restive at DC.
For one thing, he often complained off the record about the fact that his friend and editor Julie Schwartz ("a good man in a hard time," Gil once called him) would almost never let him draw Green Lantern simply throwing a punch, as the original GL had often done in the '40s. "Everything had to be done by that damn ring," he once groused to me. I believe Gil enjoyed aspects of The Atom rather more, since the Mighty Mite had no weaponry other than his fists.
In addition, Gil was excited by what his old boss and inspiration Jack Kirby was doing with Stan Lee, and knew that by the mid-'60s Marvel's sales were threatening the eventual supremacy of DC, which ironically distributed Martin Goodman's far smaller line at the time.
IV. CONVENTIONS, COVERS -AND CAPTAIN MARVEL
It's around the time that I was privileged to meet Gil.
We were probably introduced, in passing, at Dave Kaler's New York Comic Book Convention in the summer of 1965. In fact, on the last day of the con, after Gil made several pithy comments from the audience, he was asked to join publisher Jim Warren and several other guests (including myself, as a fan-turned-pro) on a panel about the future of comics. I wound up sitting between Jim and Gil, pretty heady company for a guy just in the business about a month.
Not long afterward, Gil made the first of his Silver Age forays into Marvel. He began with "The Incredible Hulk," which he drew in a Kirbyesque manner. Stan respected Gil's talent, but wasn't totally wild about his rendering of the character... or with his "Captain America" work that followed. Gil, aware that he was under-appreciated at Marvel at that time, kept one foot in the DC camp, and indeed did little work for Marvel for a time. Nor was he pursued to do so.
For my own part, I'm sure we ran into each other at parties now and then, but we had nothing special to say to each other. He drew a cover or two for The Avengers when I was first writing it, but they weren't among his best, and anyway I had relatively little to do with the covers in those days.
The closest contact we had-and that was quite indirect-was circa 1969, when I decided to revive the original volume of Alter Ego, which had lain dormant since I'd entered the comic book industry in 1965.
Science-fiction and EC fan John Benson had likewise met Gil at that '65 convention, and approached me with the idea of his doing an interview with Gil that would be published in A/E. I readily concurred, despite knowing that Gil, who was edging out of DC so he could put his energies into his own publication, His Name Is... Savage, would have less to say about the super-heroes who were A/E's usual fare than about the broader aspects of the field. In fact, I was partly interested because of this aspect, which I hoped would add a new dimension to the magazine (as indeed it did).
I myself had little to do with the interview, except to aid John in preparing it for A/E after the fact, along lines determined by John. I was proud to publish it, and I reveled in the cover art by Gil (and even more so Marie Severin, who did the best portrait/caricature ever done of Gil, anytime, anyplace); but Gil and I had virtually no personal contact about the piece.
Soon afterward came the circumstances which began our longtime collaboration-and friendship.
Marvel's alien super-hero named Captain Marvel was going nowhere, and I-as his second but not current writer-came up one Saturday morning with the notion of turning the Kree warrior named Mar-Vell into an echo of the original (Fawcett) Captain Marvel, only with science-fiction trappings this time instead of magical ones, and with young Rick Jones as his "Billy Batson."
My several-page plot synopsis for CM #17 and a costume redesign (about which more sometime when I write about Mar-Vell per se) were already in the hands of penciler Don Heck when Gil walked into Marvel's offices for the first time, I believe, in some months.
By sheer coincidence, he told Stan he'd really like to take over the Captain Marvel book, an obvious loser, and see what he could do with it. Since the mag was now basically in my charge, Stan brought Gil out into the bullpen to talk with me. I sparked at once to the notion of his doing the book, and either Stan or I decided to retrieve my plot (which Don had not yet begun) and give Heck a replacement feature so he wouldn't lose any income.
Gil and I conferred, and I let Gil fine-tune my costume re-design slightly before he started drawing the story. I doubt if he was particularly thrilled to be working with me, whom he hardly knew, but we got along from the start. (Later, underground cartoonist Roger Brand, who had then worked briefly as Gil's assistant, told me he'd done story breakdowns of CM #17, but I've never been certain how much, if any, of his work Gil used.)
And what pencils they were!
I was thrilled when I saw the splash page, which Gil later gave me and which I still own: Captain Marvel floating in hyperspace, to which he'd been exiled at the end of #16 (in an ending I'd shoehorned into writer Archie Goodwin's tale to segue into my "new direction," including putting Mar-Vell in our new costume in its last few pages).
I exulted as I pored over the sequence wherein Rick Jones pursued a phantom "Captain America" into a subterranean cavern (shades of Whiz Comics #2!) and there found a Kree secret lab. "Nega-bands" which Rick put on his wrists were substituted somewhat lamely for that wonderful word "Shazam!"-but still, the science-fictionalization of Captain Mar-Vell seemed to work.
Gil's pencils, as per usual, did lack blacks and were rather open; but what they had was structure. Structure and movement and dynamism:
Rocks jutted up from beneath the earth as if thrust there by some volcanic upheaval. "Captain America" ran so flat-out that his head seemed nearly to touch the ground in front of him. And when Rick slammed those Nega-bands together and exchanged places with Mar-Vell, Gil Kane became-even more than before-one of my favorite artists. And I'll admit that, when he pronounced my plot synopsis one of the best he'd been given in years, it did a lot to cement our comradeship.
We also found the perfect inker for Captain Marvel in Dan Adkins, who instantly became and remained one of Gil's favorite embellishers, ever. Dan skillfully added the needed blacks, and otherwise followed Gil's line. The issue looked exactly like what it was supposed to look like: Gil Kane art, with inking by someone who knew how to throw in blacks and shadows.
(Stan often felt that, because of the lack of blacks, Gil should be paid a "layout" rate, but he never pushed too hard on it, as long as inkers didn't complain about having to "add blacks"-which some of them occasionally did.)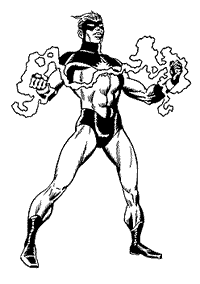 Pin-up of Captain Mar-Vell by Gil Kane. Inks by Dan Adkins. Courtesy of David Hamilton. [©2000 Marvel Characters, Inc.]
Gil and I worked together on Captain Marvel for the next five bimonthly issues, but those issues were spread out over more than a year, because the title was briefly cancelled on the basis of recent, pre-revamping sales figures... only to be brought back a second time, and then die again. Eventually sales proved strong enough to revive the book a third time, but by then Gil and I were busy with other projects, so Marv Wolfman and Wayne ("Superman") Boring inherited Captain Marvel.
Gil's favorite of our five CM issues was #19, which unlike the others was entirely his idea-the "rat's-maze" issue, in which one of the key characters was revealed to be a survivor of Nazi death camps, complete to a number tattooed on his wrist. This was fairly heady stuff for 1970, and had personal resonance for Gil, who was born a Jewish European.
V. SPIDEY, WARLOCK, AND KUNG FU
After Captain Marvel, Gil and I found every opportunity to work together that we could.
One of the first was when the Comics Code was altered in 1970 and comics were allowed to use vampires, werewolves, and the like for the first time since the mid-1950s. This coincided with Gil's stint as the third regular penciler of Amazing Spider-Man-and with Stan taking a four-issue writing hiatus so he could collaborate on a screenplay with French New Wave director Alain Resnais.
Although Spidey was not a character I was eager to script, Stan wanted me to write it rather than Fantastic Four if I had time to take do only one of the strips he was relinquishing, so I did. Stan also wanted me to create a vampire as a foe for Spider-Man.
Gil and I talked it over and were going to bring Dracula into the Marvel Universe via the Spider-Man book (this is prior to Tomb of Dracula #1), but Stan said no; he wanted a new, more super-villainous creation for Spidey to fight. So Gil and I came up with Morbius, the Living Vampire, a science-fictional vampire. Gil designed a great costume, and the only fly in the ointment was that we had inherited a situation in which Spidey temporarily had six arms.
After those two oft-reprinted issues were finished, Gil suggested a King Kong-inspired storyline. I eagerly concurred, and we cast J. Jonah Jameson in the role of Carl Denham, with Gwen Stacy as Fay Wray, and an alien "Kong." Part of the reason Gil and I liked doing these two relatively offbeat stories was, I suspect, that neither of us liked doing Spider-Man all that much, and would have preferred to be working on other features. All four issues sold quite well, however-better, in fact, than the issues with a Spider-Slayer robot, The Gibbon, and a Vietnamese death cult which Stan did with Gil on his return.
In 1970, Jack Kirby had left Marvel and launched his "Fourth World" projects at DC. Though not a huge fan of Jack's execution of them (although I loved the concepts, especially The New Gods), I felt this gave me an opportunity to do what I'd long been chafing to do-develop a sort of alternative to the current Marvel Universe. Stan never liked the idea of parallel worlds, although he hadn't stopped me from using one in the 1968 Avengers Annual), but this time I wanted to go further.
And thus was born Warlock.
Another inspiration, besides the Fourth World, was Jesus Christ Superstar, which I loved as a record album, though I would later be less wild about the Broadway play and the eventual, inevitable movie. I believe I came up with the name "Warlock" (though I wouldn't stake my life on it), the idea of having the Christ-inspired hero be the gold-skinned "Him" from Fantastic Four, the use of Counter-Earth (a once-voguish theory that Earth had a "twin" which we never saw because it stayed on the far side of the Sun), the Man-Beast (from Thor) as Warlock's Satan stand-in, and the concept of a young group of acolytes to approximate Christ's Apostles.
At a very early stage, however, I went to Gil, and we developed the New Testament-inspired storyline together. Gil basically designed the costume, and suggested giving him something akin to the original Captain Marvel's lightning bolt as a chest sigil. (Remember, the Big Red Cheese at this time was still in what seemed a permanent state of limbo.) He also came up with the idea of giving him a first name: Adam, after the first man. The panel showing a long shot of Christ on Calvary was his concept, as well.
"Warlock," in Marvel Premiere, was a fair-to- middling hit in its first few issues, and quickly earned its own title. Unfortunately, at the time, some health problems in Gil's family forced him to miss an issue or so, and part of another (which was completed by John Buscema), and soon afterward first I, then Gil, drifted to other projects. It was left to Jim Starlin, a bit later, to take Warlock off in weird new directions with my editorial blessings (just as he had previously done Captain Marvel), but I regret that Gil's and my Marvel Premiere/Warlock and Captain Marvel issues have never been reprinted.
When I saw my first Hong Kong kung fu movie in the early '70s (Five Fingers of Death) and it contained a ritual called "The Iron Fist," I decided that would make a good name for a Marvel hero to take advantage of this coming trend, and asked Gil to work with me on it. Except for the name, I had not fleshed out the idea.
Gil, a lifelong admirer of Bill Everett's (there's that name again!) pre-Sub-Mariner hero Amazing-Man from the Centaur Comics Group, reeled off for me the origin of "A-Man," which contained a Shangri-La clone and a group of enigmatic figures headed by the hooded Great Question. All these elements were incorporated into our joint plot, though we stuck around only for Iron Fist's origin (in Marvel Premiere #17) then turned the feature and a few basic concepts over to Len Wein, who worked with artist Larry Hama on the second story.
When I became editor-in-chief, one of my main duties suddenly was to oversee all the covers, on which I'd had increasing input (at least on comics Stan didn't write) for the past couple of years. With Jack Kirby gone, and art director John Romita busy as a general trouble-shooter, I turned increasingly to Gil during 1972-74 for cover roughs, often for finished covers.
As I look back on them, they could perhaps have been a bit more varied. Gil and I, who often had to come up with a half dozen or more covers during one afternoon's conference when he came into the city from Connecticut, sometimes settled a bit too readily on concepts which were interchangeable from title to title. The fact that Gil tended to draw all heroes a bit more lithe than they were depicted in the comics' interiors was a further drawback.
All the same, I sincerely believe there is a substantial body of good work amid all those covers-which Gil would continue under other editors after I stepped down in late '74-as a cursory paging through the Gerbers' Photo-Journal Guide to Comic Books will show. Gil was always proud of those covers, and understandably resented their often being ignored in histories of Marvel. Along with John Romita, he set much of the tone artwise for the company during the 1970s.
VI. CONNECTICUT AND CIMMERIANS
During this period, Gil rented (with an option to buy) a beautiful home in the woodsy suburbs of Connecticut, to which I was a frequent visitor, often accompanied by my first wife Jean. Among the people I first met at Gil's place, generally around his spacious swimming pool, were Harvey Kurtzman, Al Jaffee, and Dik Browne. Gray Morrow was another guest during one of my visits. I believe I also met author (and neighbor) Ron Goulart there, as well; Ron would later write a few Marvel comics, including Warlock and an adaptation of Robert Bloch's "Yours Truly, Jack the Ripper" with Gil, and became Gil's scripter for his inventive Star Hawks newspaper comic strip.
I have nothing but pleasant memories of gatherings at that Connecticut retreat, so amiably hosted by Gil and his gracious wife Elaine (of whom an entire separate article could be written). Among them are:
Looking up, and up, and up, from my poolside chair to be introduced to the towering, bearded Dik Browne, who resembled his newspaper strip creation Hagar the Horrible far more than I did Conan the Barbarian;
Being so awestruck in the presence of Mad creator Harvey Kurtzman that I kept calling him "Mr. Kurtzman" until he broke the ice by haughtily announcing, "You may call me 'Mr. Kurtzman Sir'!";
Gil and Gray discussing the power of human memory to infuse past events with almost supernatural energy, when Gray was describing, Proust-like, the way breakfast had smelled on a certain morning in Paris some years earlier;
The two of us sitting by his roaring fireplace when I was staying overnight, with me becoming so enervated by the heat that, when it came time to go to bed, it took me several minutes to find the energy to move from my chair.
And along with this, of course, were the discussions about comics-rarely about characters or stories, but nearly always about either general theory and/or the influence of particular creators such as Jack Kirby, Lou Fine, Will Eisner, Jack Kirby, Harvey Kurtzman, Charlie Biro, Jack Kirby, Stan Lee, Shelly Mayer, Joe Simon-and, oh yes, Jack Kirby.
Hard as it may be for some who know me to believe this, it was usually Gil who did most of the talking in our conversations, with myself as rapt listener though making a few points, even occasionally playing devil's advocate for opposing viewpoints. Many of his ever-evolving views, fortunately, have been preserved in A/E and in later interviews, such as the two-parter with The Comics Journal, conducted by his good friend Gary Groth.
Our hours-long sessions designing covers ended when I stepped down as editor-in-chief in late 1974, but there were still a few more collaborations in our future. We did a "Ka-Zar" origin issue of Astonishing Tales which had some remarkable Hogarth-like touches (even if Gil ran out of steam near the end and had Kaz throw some punches at his Neanderthalish foe which there was simply no time to redo), and I got us started on an adaptation of some Mowgli stories from Rudyard Kipling's Jungle Books which wound up uncredited to me in Marvel Fanfare during a period when my very name was anathema at the House of Ideas.
Gil also drew several key "Conan" stories during my tenure as Robert E. Howard guru at Marvel.
Among these were two Turlogh O'Brien tales, "The Gods of Bal-Sagoth" and "The Dark Man," and the first four installments of our adaptation of Conan the Conqueror, Howard's only novel about his Cimmerian hero, whom I'd brought to Marvel.
As has often been remarked, Gil's REH connection goes back much further than my own. I forget whether Gil ever told me if he had read any of the original printings of the Kull and Conan tales in Weird Tales magazine in the 1930s, but he did own a collection of the complete Gnome Press hardcover books published in the 1950s and early '60s.
In fact, his original plan for his publishing venture which would get him out of comic books in the late 1960s was to do Conan; however, his distributor wouldn't go for the idea of a sword-&-sorcery quasi-comics magazine, so Gil came up with His Name Is... Savage instead, and the bronzed barbarian was left for Marvel and me to introduce to American comic books. It was letters from the readers which first convinced Stan and me that we should add a sword-&-sorcery hero, and most especially Conan, to the Marvel line-but Gil was informal advisor and enthusiastic cheerleader to the idea from the beginning, and eventually even sold me his entire Gnome collection, which I still own.
We even worked together on a number of post-'74 covers for Marvel, not just on Conan the Barbarian but also on The Invaders and other titles of which I had become contractual writer-editor.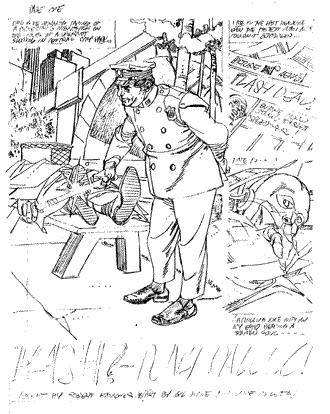 An example of Gil's pencils: a rejected, never-inked splash page done for The Flash #199. [Flash ©2000 DC Comics Inc.; courtesy of David Hamilton.]
VII. REMEMBRANCES OF THE RING
After I left Marvel for DC at the end of 1980, Gil and I didn't collaborate again for a while, but we always kept an eye out for an opportunity to work together. This came in one Shazam! Annual we co-plotted, although I had to have someone else do the actual scripting at the last minute.
After 1984-85 we also worked on three issues of Secret Origins-"Midnight" (the "Spirit" clone created by Jack Cole), plus never- published tales of two Lou Fine Quality heroes, "Firebrand" and "The Ray." I still have a full set of his layouts for those two, plus some character designs for another series or two we hoped to sell DC but never got around to finalizing.
And, eventually, there was The Ring of the Nibelung.
Although Wagner's Ring Cycle of operas had long been a favorite musical experience of Gil's, I came to them relatively late... actually via librettos in book form. However, in the mid-'70s the Metropolitan Opera mounted a lavish production of all four, and Gil even accompanied me to one of them-though he had to leave before the end in order to catch the last train back to Connecticut.
And when DC editor Mike Gold suggested I do a four-issue Ring adaptation as prestige-format books in the late 1980s, Gil was the first artist I thought of as a possible collaborator. Actually, I needn't have bothered-because, while I was still mulling over things, Mike brought Gil onto the project on his own. Which was fine by me.
The Ring was a labor of love for both of us, for in addition to the Wagner operas we were both familiar with their mythological sources: the Elder and Younger Eddas, The Volunga Saga, The Nibelungenlied. Indeed, Gil wanted to combine the Wagnerian elements with others from the actual Teutonic sagas. This idea I steadfastly resisted. I felt strongly that it would be a mistake to bring in divergent elements which could only hurt the unity of the project as a whole. The Nibelungenlied, for instance, eschewed all supernatural elements and was primarily a tale of grim revenge, while some of the events in the Eddas and The Volsunga Saga, although they were the original inspirations for Richard Wagner himself, were at variance with plot elements in the operas as realized.
Because the Ring was considered basically my project, and because nobody in the DC offices was familiar enough with the material to even begin to impose his will on either of us, I prevailed in this matter... and happily so, even by Gil's lights. In later years he cheerfully admitted that we would never have gotten the fulsome reviews we received in The New York Times, Opera News, and elsewhere if we had diluted Wagner with infusions of the original sagas.
For my part, I was thrilled to be working with Gil again, and on a project so dear to our hearts. We would get together at a restaurant prior to each issue and talk things over, and then I would write up notes for the adaptation.
Gil went me one better in a couple of areas. The first opera, The Rhinegold, begins with a long musical note, with other notes slowly beginning to swirl around it, which represents the creation of the world-before the Rhinemaidens lose the Rhinegold to Auberich, the evil Nibelung. I had in mind to take up eight or so pages with creation-related events taken from the Eddas, as a prelude to those events. When I sent the plot to Gil, he turned all those myriad panels into a handful of full-page panels, to which I would add merely a few quasi-quotes from the Icelandic epics. It worked like a charm, much better than what I had originally envisioned. (A few pages later, two balloons come from the wrong characters because editor Andy Helfer ignored a phone message I left, but at least the DC crew put the pages together in the right order.)
The second volume, The Valkyrie, begins with an exciting overture which represents a chase through the forest and ends up with the hero Siegmund staggering into the hut where he will meet his long-lost twin sister Sieglinda. Over lunch, Gil and I came up with the notion-and it was probably he who suggested it-to take a portion of the story otherwise merely referred to later (the pursuit of Siegmund by revenge-seekers) and illustrate it over those introductory pages. This Gil did skillfully, and I felt no words were needed on those pages. Let the first words in the book be the ones Wagner wrote, after Siegmund stumbled into the hut. (Editor Andy later tried to get me to add captions to those pages, but I told him-through an assistant, since we were no longer talking directly to each other-that these wordless pages were the equivalent of the opera's overture, and that not only would I not add a single word to them, but that if he did, I would denounce him and the bastardization of the Ring project to anyone who would listen, both in and out of DC. Reason prevailed, and The Valkyrie went out without captions.)
DC never quite knew what to do with The Ring, despite doing a very good job with the packaging, especially of the combined graphic-novel version. It sold well enough, in versions published both by DC and by Warner Books, but was soon allowed to go out of print with little fanfare, even though part of the justification for doing the adaptation had been to get it into opera book stores and to keep it in print forever. Why should P. Craig Russell have all the fun?
VIII. TWILIGHT
Unbeknownst to me, however, there was a tragedy going on behind the scenes while Gil was working on The Ring, as well as in the pages themselves.
He had developed lymphoma, one of the most virulent forms of cancer.
This terrible disease slowed production of the last volume, The Twilight of the Gods, in particular. For my part, I was confused for some time about the slowdown-because Gil didn't tell me he had cancer. He was so fearful that DC would learn he was ill and would cancel not just Ring but another upcoming project he had with them that he told an absolute minimum of people about the cancer. Knowing that I had almost daily contact with DC as both writer and editor of my own material, he kept me in the dark for months. Alfredo Alcala anonymously inked a number of Gil's pages in Twilight.
I'll confess I was deeply hurt to think that Gil didn't trust me not to let slip the fact that he was seriously, perhaps terminally ill. Well, I like to talk, I'll grant you that... but wild horses could never have pried from me that type of secret. Still, I understood Gil's position. I realized that, when one lives in fear not only of loss of income, but even of imminent death, he is likely to make decisions which are overly cautious. He was more likely to share it with someone like Archie Goodwin, who was not only a friend and ofttimes collaborator, but one who had himself contracted cancer... and who eventually would pass away two years before Gil himself.
The important thing was that Gil survived the lymphoma, which eventually seemed completely cured.
It left him weakened and overly thin, however. People who saw him for the first time in several years often came away shaken at his almost skeletal appearance.
Yet the talent never wavered.
Gil continued to turn out good work, whenever the opportunity presented itself-and by the mid-to-late 1990s, he was one of the very few artists of his generation still actively working in comics.
He did a good job on Edge for Malibu, even if he felt the series had gotten seriously derailed at an early stage. Among his DC projects at this time was a well-received Superman prestige-format book called Distant Fire... and indeed he was working on another long-delayed Superman book up till virtually the end of his life. He did several "re-creations" of Green Lantern and Atom covers for sale by Sotheby's, taking the opportunity not simply to trace his early-'60s work, but to render the heroes in the far more dynamic style he had developed after the mid-'60s.
Gil and I even came close to working together again.
Knowing by this time that I could interest him only in projects he generated himself, I discussed with him the possibilities of a prestige-format book we might do for DC. He had an idea for one called Krypton, which would deal with the history of Superman's home planet and end with the destruction of that world; the hero of the latter part of the book would be Jor-El. In many ways the story we worked out had the ring of-The Ring-about it. DC head honcho Mike Carlin gave a tentative okay to the book, but because Gil had another, not totally dissimilar project already in the works, Krypton got derailed, even after I did many days' worth of research on the history of Superman's homeworld.
By now, I had come to accept the fact that Gil's and my collaborative days were probably fully behind us, even if he lived (as I hoped he would, for he was only in his early 70s) for many more years.
Still, we kept in touch. Although I believe the last time I saw him in person was at the 1997 San Diego Comics Convention, we talked several times a year by phone; and after Alter Ego was revived, he was generous with his time and artwork. He allowed me to use, as the "flip cover" of A/E Vol. 2, #2, the 1970 illo he'd done for me of himself surrounded by characters he'd drawn. Even though he felt neither Jerry Bails nor I had anything to do with the effective creation of the Silver Age Atom, he cooperated with my investigation of that event and never seemed to resent what I wrote, which largely vindicated his viewpoint in any event. He gave me his blessing to use a rare Atom poster he had done a few years earlier as the cover of A/E V3#2, and even succumbed to my blandishments (for the munificent sum of $50) to make a stab at redrawing one of his conceptual Atom drawings from late 1960-the one with the Atom seated on the back of a German shepherd.
I remember his telling me, with some self-satisfaction, that yes, he thought that Atom drawing had come out fairly well.
In retrospect, I suspect he said this because his own powers of concentration, so necessary to his artwork, were failing him, and doubtless intimations of his own mortality were more and more assailing him.
In mid-'99 I interviewed him for A/E-less about his own career than about what the various comics companies were like in the 1940s. The first conversation was to be about Timely/Marvel, but the actual topics covered ranged far and wide, so I merely extrapolated the 40% or so that dealt mostly with Timely for use in Vol. 3, #3, saving the rest for later.
Plenty of time, I imagined, to cover other companies in future interviews.
I was, of course, tragically wrong.
The last time I spoke with him-about the possible identification of some of the Timely art used in V3#3-I found him weaker, less talkative and enthusiastic than usual, so I didn't press the matter. Rest and get well, I told him. What else do you say? I didn't want to think about the alternative. I dared hope he'd even be well enough to attend the MegaCon in Florida in March, to which I'd been invited.
Then one week I heard from Pat Bastienne, friend and assistant to Dick Giordano, that Gil had gone into the hospital, that his cancer had returned, and that the prognosis evidently wasn't good.
And, almost exactly a week later, Pat left a second, tearful message on my answering-machine:
Gil had passed away the night before.
Elaine Kane phoned later that day, as well. Indeed, when I arrived home, I had no less than half a dozen phone messages about Gil's death, plus various e-mails, from people all over the country. One website particularly wanted to discuss our work together, aware that Gil had at various times called me his favorite collaborator. I returned all the calls I could, and lost myself for a time in the verbal celebration of Gil's life and accomplishments and talent.
Originally I intended merely to write a couple of pages about Gil for this issue, which was already basically finished at the time of his death. However, I knew it would gnaw at me until I did it-this desire to write a longer memoir. There would be plenty of people to write about Gil's career-more, as it turned out, than I could have imagined. However, I wanted to concentrate on one aspect-our body of work together, the fun we had doing it, and what it meant to me... and hopefully to Gil, as well.
A week and more after his death, I punched in the Kanes' phone number, hoping to get a chance finally to speak to Elaine personally.
After a few seconds, the answering-machine came on. Although I should have been prepared for this, there was Gil's voice, sounding haler and heartier than he perhaps felt when he recorded the message, stating that no one was home but that he'd call us back if we left a name and number.
But he won't, of course.

Sign up here
to receive periodic updates about what's going on in the world of TwoMorrows Publishing.

Click here to download our new Fall-Winter catalog (2mb PDF file)
Howard Keltner's Golden Age Comic Books Index is the premier references for Golden Age comics! Bob Klein worked with Howard to make this edition available, just before Howard's untimely death in 1998. Howard's widow has graciously given us permission to give the index away for free for all to enjoy!
Click here
to view! (1.5 MB file.
Adobe Reader
required.)