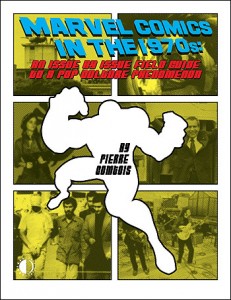 On September 21, we're releasing MARVEL COMICS IN THE 1970s, by Pierre Comtois, the sequel to his heralded first volume on the 1960s! This book covers Marvel's final historical phase: the twilight years of the 1970s, after the initial '60s wave of popularity pushed the company to the forefront of the comics industry, and made many of its characters household names. This full decade of pop-culture history saw Stan Lee's role as writer diminish as he ascended to Publisher, the stunning departure of Jack Kirby to DC (and his later return to Marvel), the rise of Roy Thomas as editor (and eventual Editor In Chief), and the introduction of a new wave of writers and artists who would expand the boundaries of comics beyond super-heroes, while planting the seeds for the company's eventual self-destruction. Comics such as the Spider-Man "drug" issues, Conan the Barbarian, Tomb of Dracula, Master of Kung Fu, Howard the Duck, the new X-Men, and more are covered in detail—along with the creators who wrote and drew them, including Chris Claremont, Barry Windsor-Smith, Gene Colan, Marv Wolfman, Steve Gerber, John Romita, Gil Kane, Sal Buscema, and many others. So don't be satisfied with only half the story! Check out Marvel Comics in the 1970s and find out why Marvel was once hailed as The House of Ideas!
$27.95 cover price
$8.95 Digital Edition
224 pages, black and white
ISBN-13: 978-1-605490-034-2?
ISBN-10: 1-60549-034-2
In anticipation of the book's release, TwoMorrows Publishing is offering a FREE PDF preview of at this link.
The book will debut in bookstores and comic book shops on September 21, and is available for pre-ordering directly from TwoMorrows in both PRINT and DIGITAL EDITIONS (Digital Edition is only $8.95, or get the Print Edition at 15% off, plus get a FREE digital version) at this link.
It may also be ordered through comic book stores, using Diamond Order Code: MAR111287