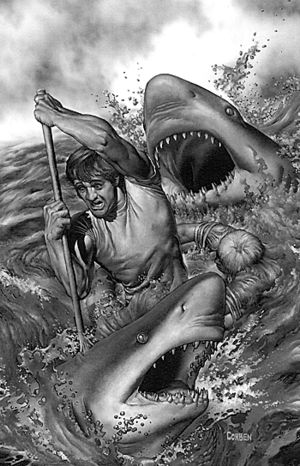 Bruce Jones served as the visual inspiration for Richard Corben with this cover depicting Jones and Corben's greatest collaboration (in ye editor's estimation, at least), "In Deep," from Creepy #83. Oddly enough the cover wasn't used until the story was reprinted in Creepy #101. It was originally rendered in b&w, with Richard coloring through his elaborate process of acetate overlays for separating the color plates. ©1976 Warren Publications.
Richard Corben cover
COPYRIGHT NOTICE: Due to the ongoing legal battle between James Warren and Harris Comics over ownership of many of the characters originated by Warren Publishing (perhaps most prominently Vampirella), we have listed copyright notices as they stood, undisputed, at the time the original material was published. No infringement or support is intended to either party by our doing this.
From Comic Book Artist #4
---
To make subscription and back issue orders easier for our readers (especially those overseas), we now accept VISA and MASTERCARD on our
secure web store
! (
Phone
,
fax
,
mail
and
e-mail
accepted, too!)



Sign up here
to receive periodic updates about what's going on in the world of TwoMorrows Publishing.

Click here to download our new Fall-Winter catalog (2mb PDF file)