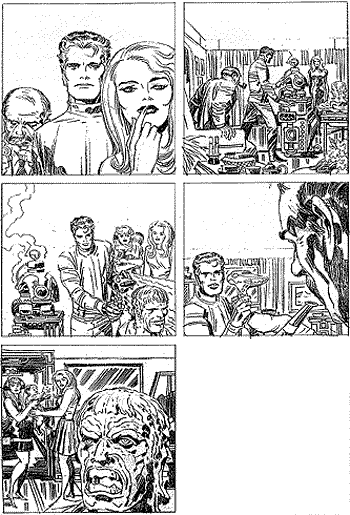 This is Jack's unused art for page 2 of the story that ended up in Fantastic Four #108.
Jack's margin notes, panel by panel:
"Even ancients pondered problem that still plagues man today"
"This radiation test will prove date conclusively"
"The rays react"
"This intensity meter places statue at 4000 B.C."
"That fierce face - - thank goodness we've progressed today"
Panel was cropped and used on page 1 of FF#108
See our Ninth Issue for the whole story (as best as we could do!)

From Jack Kirby Collector #9

Characters ™ and © Marvel Characters, Inc.

Art © Jack Kirby.

Sign up here
to receive periodic updates about what's going on in the world of TwoMorrows Publishing.

Click here to download our new Fall-Winter catalog (2mb PDF file)