Don't Ask: Just Buy It!
The Wacky World of Jack Kirby, Cartoonist
by & © Scott Shaw!
From Jack Kirby Collector #10

The first time I met Jack, I blurted out, "Jack Kirby!?! You're my favorite cartoonist!" And surprisingly, Jack seemed quite pleased to be described by that simple term, usually applied to those of us who write and draw nothing but the funny stuff. I suppose that's because Jack probably saw himself as a cartoonist, too.

Most people tend to think of Jack Kirby in melodramatic superlatives. He's been described as the ultimate comic book artist, a master's master of graphic fiction, an incredibly talented creator of dynamic heroes, dramatic action and cosmic conflicts. Comics aficionados have dubbed him "King" Kirby (a title he wore with some discomfort), and have compared his work to that of Da Vinci, Rembrandt and Rockwell, among other artistic greats. He was, without a doubt, the single most imaginative individual ever to work in the field of comic books. He was equally comfortable working in any of the familiar comic book genres of super-heroics, romance, westerns, science fiction and war, among other dramatic themes. But Jack Kirby was also very funny as a writer, as an artist and as a person, and left behind a surprisingly large body of work to prove it.

One of the strangest paradoxes in comics is that most "straight" comic books (in such "realistic" genres as super-heroes, western, romance, war, etc.) are drawn in styles that actually bear almost no resemblance to truly realistic illustration! Yet, many fans (and even editors) of these comics turn up their noses at anything resembling the kind of humorous cartooning sometimes referred to within the business as "big-foot drawing." In my estimation, Jack Kirby's artwork somehow bridges this aesthetic gulf.

Judging by life-drawings that he had done as a young man, Jack had always possessed a natural ability to work in a much more realistic style than that with which he is now usually associated. It appears that the exaggerated and dynamic anatomy, poses, design, composition and foreshortening that have become such a Kirby trademark may have been the result of a conscious aesthetic decision on Jack's part. One thing is certain, however; once he began his professional career (under a variety of pen names), no matter what the character or genre, whether the subject was serious or light-hearted, Jack Kirby could only draw like Jack Kirby and if humorous illustration could be described as an exaggeration of realistic art, then Jack Kirby's humor work is nothing less than an even greater exaggeration of his normally exaggerated style!

Some of Jack's earliest professional work was doing "in-betweening" on the animated Popeye shorts at the Max Fleisher Studios. Although he soon tired of the job and left the studio, citing that the work was far less than creatively fulfilling, it's apparent that his experiences at Fleisher's had some influence on him, because one of his early comic strips was Socko the Seadog, which was a fairly blatant Popeye imitation. But it's likely that this early animation training also had a long-range effect on Jack throughout his six-decade career. Not coincidentally, in the 1980s Jack found himself back where he started, working in the animation field, doing character designs and concept development for Hanna-Barbera and Ruby-Spears Productions (including extremely cartoony designs for H-B's Scooby Doo cartoons!). Here are a few notable examples of prime Kirby cartooning over the years:

During the mid-1940s, Jack tried his hand at funny animals with "Earl The Rich Rabbit" and "Lockjaw The Alligator" in Punch And Judy Comics for Hillman Periodicals. As a cartoonist who's done more than a few funny animals myself, I feel I must emphasize that Jack truly excelled at this type of material and that it's a real shame he rarely ever revisited the genre. Although lightweight in story, these are some of the most dynamic and powerful pages I've ever seen! It's also noteworthy that "Earl" pre-dated Carl Barks' Uncle $crooge McDuck, who made his first appearance in 1948! Around the same time, Jack also drew a teen humor strip, "Toby," appearing in Archie's Laugh Comics.

Fighting American (Prize Group, 1954) started out as a fairly straightforward reworking of Captain America's origin in a Cold War setting, but Simon and Kirby soon had Johnny Flagg and his sidekick Speedboy facing a host of whacked-out bad guys. Stories as funny as these come along few and far between, but considering they were crafted during the humorless era of "The Red Menace," they are a testament to Simon and Kirby's unique "take" on even the most somber subject matter. These hilarious stories have recently been assembled in a hardback collection that is well worth its somewhat pricey cost.

"Uncle Giveaway" was the host of Win-A-Prize Comics (Charlton/Simon & Kirby Productions, 1954), a comic with the gimmick of awarding 500 free prizes of bikes, cameras and sports equipment to readers who completed the drawing, stories and quizzes within.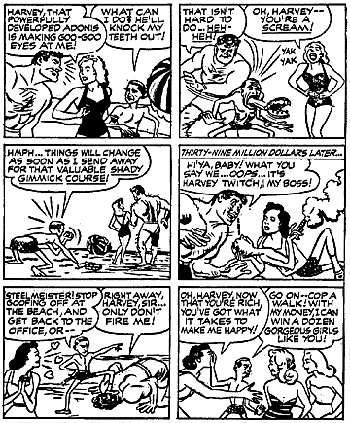 From Here To Insanity #11 (Charlton, 1955) was merely one of many comic books that flooded the newsstands in hopeful imitation of the spectacular success of Harvey Kurtzman's Mad. Like its inspiration, this comic (originally titled EH!) featured a movie parody ("Walt Chisley's 20,000 Lugs Under The Sea"), a comic-strip parody ("Rex Mortgage, M.D.?"), and a TV parody ("Line 'Em Up") as well as various ad spoofs ("Be A Successful 90-Pound Weakling"). There's also a preview for "Comet Feldmeyer, the Ace of Space! And His Nerve-Wracking Little Companion... Lovable... The Electronic Nuisance!", supposedly to appear in the next issue, but actually never seen in print again. This comic also features something unusual for Jack but quite typical of Mad: the usage of Duo-Tone art board to add a textured gray shading under the coloring. (Later in the mid-60s, Jack would draw and color a spectacularly Mad-like piece of promotional art for the "Captain Nice" TV sitcom!)
Even Jack's most enduring co-creation, the Marvel Universe, bears many marks of his sense of humor. The Fantastic Four's Thing started out as a tragic character, but within a dozen issues Ben Grimm evolved into a lovable behemoth who remains one of the most beloved Marvel characters of all time. His ongoing feud with the mysterious Yancy Street Gang was a source of gags in many early issues. FF #11 introduced the irrepressible Impossible Man, who echoed the personality of the zany alien lead in the play and film "Visit To A Small Planet." When the Inhumans were introduced, so was their teleporting pet Lockjaw (and I sincerely doubt if the similarity in names between the giant bulldog and Jack's funny animal alligator of the '40s was a coincidence)! Another humorous Kirby creation at Marvel is Volstagg the Voluminous (undoubtedly patterned after Wm. Shakespeare's comic/tragic character Falstaff), one of the Warriors Three in The Mighty Thor along with Fandral the Dashing and Hogun the Grim. And who could forget the bizarre image of the Incredible Hulk, dressed in clown make-up and costume, juggling live elephants and other circus animals, as depicted in The Avengers #1? Jack even did an outstanding parody of his own characters in Not Brand Echh (1967) with "The Fantastical Four," "The Mighty Sore" and "The Silver Burper."
When Jack relocated at DC in the early '70s, he packed his sense of humor with him. Don Rickles' lookalike "Goody" Rickels first appeared in Jimmy Olsen #139 (1971), and the final installment of the Rickels saga, Jimmy Olsen #141, bore what possibly remains the greatest comic book cover blurb of all time:
"Kirby Says: Don't ask! Just buy it!"
A few years later, Jack came up with a wacky "kid gang" for DC, "The Dingbats of Danger Street" in First Issue Special. But among all of these, his most amazing and revealing humorous creations for DC were "Funky Flashman" and "Houseroy," who made their first appearance in Mister Miracle #6 (1972). Of all the Fourth World titles, this one seemed to serve as the outlet for many of Jack's more darkly humorous concepts, but this particular issue still stands out as a sterling example of not only Jack's sense of humor, but also of his ability to do scathing satire. Funky is his barely-disguised version of Stan Lee! (And his obsequious houseboy Houseroy is obviously based on Roy Thomas!) Check out this intro text for an example of Jack's attitude toward his fellow inmates in "The House Of Ideas":
"In the shadow world between success and failure, there lives the driven little man who dreams of having it all!!!--The opportunistic spoiler without character or values, who preys on all things like a cannibal!!!---Including you!!! Like death and taxes, we all must deal with him sometime! That's why, in this issue, we go where he lives--in the decaying ante-bellum grandeur of the mockingbird estates!!---and "Wait for Godot" with Funky Flashman!"
But what do you really think, Jack? When Mister Miracle #6 was first published, the comics community was stunned by its uncharacteristically savage tone, but in retrospect, it's even more outrageous! To paraphrase Stan's familiar old hype-line, if there's but one Jack Kirby comic that you should seek out and read, this is the one!
Taking the subtext of "Funky Flashman" into account, it's a testament to his importance in the comic book industry that Jack could return to Marvel in the mid-'70s. But return he did, triumphantly, where among other things, he wrote and drew "What If The Original Marvel Bullpen Had Become The Fantastic Four?" in What If? #11 (1978), featuring Stan Lee as Mister Fantastic, Sol Brodsky as The Human Torch, Flo Steinberg as The Invisible Girl, and Jack himself as The Thing! Jack's opinion of Stan and company had apparently mellowed, although the story's affectionate tone might be due to Jack's artistic reunion with the F.F. (even this strangely warped version) rather than with Mighty Marvel itself. (I was delighted to help out co-inkers Mike Royer and Bill Wray by doing uncredited background inks throughout the story.)
Always a trailblazer, Jack was one of the first big-name cartoonists to establish creator-owned properties for the direct sales comic book market. Destroyer Duck (Eclipse, 1982) was Jack's long-awaited (by me, at least!) return to the funny-animal genre. This satirical title was co-created with Steve Gerber in reaction to their mistreatment by Marvel (and to provide funds for Gerber's lawsuit against Marvel over ownership of Howard The Duck). Duke "Destroyer" Duck battles the forces of Godcorp, Ltd., whose corporate motto is "Grab It All, Own It All, Drain It All." Later, created during a bedtime story for one of his grandchildren, the Dr. Seuss-like "Goozlebobber" turned up in Jack's Captain Victory And The Galactic Rangers (Pacific, 1983).
What can I say in summation? Jack Kirby was the consummate cartoonist, excelling at every type of comic book story especially humor. And to paraphrase Jack, I didn't ask, I just bought 'em!
(Scott Shaw! is a cartoonist and long-time friend of the Kirbys. He has credited Jack Kirby as a major influence on his style, which was evident in his work on Captain Carrot And His Amazing Zoo Crew! for DC Comics, which Scott says was essentially "What If Jack Kirby drew Mighty Mouse?" He currently oversees the animation for cereal commercials featuring The Flintstones, including the recent "Virtual Reality" Fruity Pebbles spot that featured Barney Rubble as a Galactus-like entity!)

Sign up here
to receive periodic updates about what's going on in the world of TwoMorrows Publishing.

Click here to download our new Fall-Winter catalog (2mb PDF file)