Forever Amoré
The "King" and a Crazy Italian's Epic Love Story!
by & © Michael James Zuccaro
From Jack Kirby Collector #11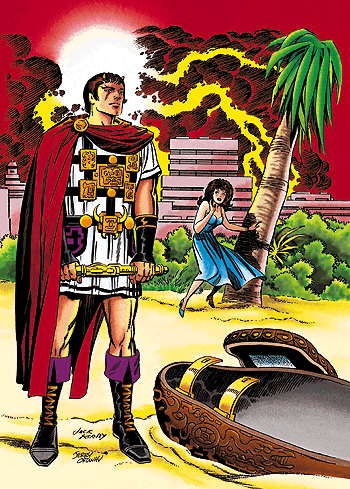 Jerry Ordway inks Jack's pencil drawing of Noctvrnvs.
When I was asked to write an article about my screenplay collaboration with Jack, the biggest obstacle to overcome was to relate how Forever Amoré came into being without giving away the plot to the film (since it hasn't been sold yet). So I decided the best way was to tell the story behind the story.
Like all readers of The Jack Kirby Collector, I'm a big fan of Jack's work. Growing up in Upstate New York's Mohawk Valley during the sixties, my earliest recollection of his work was the Fantastic Four. Jack's work was the greatest influence on my own creativity. Along with dashes of Frank Zappa, MAD magazine, Ripley's Believe It or Not, monster movies, and early television shows added into the mix, my mind was overflowing with a hybrid of pop culture influences. This hybrid was what eventually became the screenplay for Forever Amoré.
I first met the Kirbys at the Miami-Con in 1978. I happened to approach them as they were breaking for lunch, and in their always amiable way, they invited me to join them and I did. (They were lunching with Neal Adams and his family, which was an unexpected bonus.) Anyway, I had the seed of an idea from my college days (circa '72). I originally conceived a character called Noctvrnvs, a TV monster movie host along the lines of Elvira. (Actually, Noc was inspired by a Syracuse, NY TV station monster movie host who was known as Baron Damon. As a kid, I used to stay up Saturday nights to watch him, and I was one of his "bloody buddies" fan club members.)
I had written a letter to Jack about this idea, and as he did to every aspiring artist, he encouraged me to pursue my dream. I realized that if this was to occur, I had to pack up and, as Horace Greely so aptly put it, "Go west!" to Los Angeles.
On my first visit to the Kirby home, I noticed that on the dining room wall hung a collage of Ancient Roman images (columns, statues, etc.) that Jack had done. When I inquired about it, he confided that he always wanted to do a Roman character (The Inhumans' Maximus The Mad, notwithstanding).
Well, because of my years of Latin in high school, I too had an interest in things Roman. (I'm sure half of my heritage being Italian had something to do with it.) My best grades in high school were in Latin class (with a tip of the hat to my teacher, Peter B. Daymont!), and my mom used to kid me that maybe I was a reincarnated Roman.
And so, I wrote a very crude first draft, originally titled Satvrday Nightmare and started to peddle my papers around Tinsel Town. A producer at Paramount, whose father founded one of the Big Three networks, suggested I develop my idea as a screenplay. Since I had taken only one screenwriting course in college, my work was cut out for me. I showed it to Jack and with his Midas touch, he added some characters and suggested the climax. But the real carrot before this horse was the art that's shown on the top of this page!
I remember being in Jack's home studio just after he finished the pencil sketch and I said, "Jack, you made his horns too big." (Jack did everything in epic proportions!) He erased and shortened them to the nub-like bumps I requested. Then reality hit me: Wow! The King was taking direction from me! Just another example of why Jack was the King; he was so confident in his talents that he wasn't threatened by suggestions. Needless to say, I struck a 50/50 deal with Jack and realized that I was the third person that Jack put his name next to after Joe Simon and Stan Lee. Distinguished company indeed!
Even though I hammered out the screenplay and the seed was my idea, this is truly a Kirby creation in every sense of the term: a mythic character out of his time falls in love with a mortal (as in Thor); the supporting cast consists of supernatural characters (a la The Demon); a mortal man becomes a super-hero (as in Captain America and OMAC). The screenplay has all those elements and then some!
As did Jack (and most writers for that matter), I based my characters on persons I have actually known. It would mean little now, without the reader knowing the plot, to reveal just who's who, but after the film is made I promise 'it can be told,' and I'll be happy to answer any questions.
So all that remains is to finally get this movie into production. Once I determine what studio is most interested in Forever Amoré, I will muster the King's Legions to aid Noctvrnvs and your's truly in bombarding that studio with letters, inspiring the execs to bring Jack's dream - to do a film with his name above the title - to fruition! So stay tuned - the best is yet to come!
Forever Amoré and Noctvrnvs and all associated characters are © Jack Kirby and Michael Zuccaro.

Sign up here
to receive periodic updates about what's going on in the world of TwoMorrows Publishing.

Click here to download our new Fall-Winter catalog (2mb PDF file)