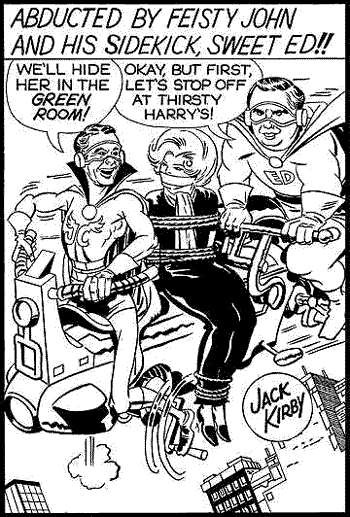 In TJKC #11, we mistakenly published that Jack did this art (the first of three drawings) for Johnny Carson to show there were no hard feelings after Carson accidentally insulted Jack during one of his 1980s Tonight Show monologues. The story of Carson's insult is true, but we've since learned that these drawings were done in the early 1970s at Carmine Infantino's request. Carmine was scheduled to appear as a guest on the Virginia Graham show, and asked Jack to draw something for him to take with him on the show. The woman pictured here is Virginia Graham.

From Jack Kirby Collector #11

Art © Jack Kirby.

Sign up here
to receive periodic updates about what's going on in the world of TwoMorrows Publishing.

Click here to download our new Fall-Winter catalog (2mb PDF file)