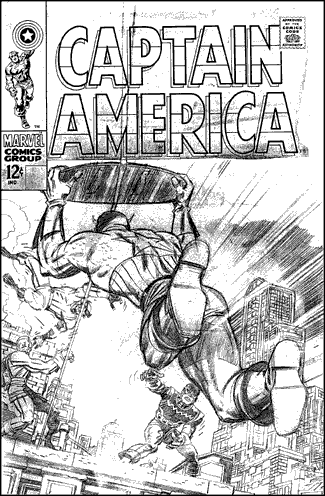 This unused cover for Captain America #105 (circa 1968) is part of the permanent collection at the Words & Pictures Museum in Northampton, MA. Jack originally penciled Cap with left foot forward. John Romita had Jim Steranko re-position the leg as it appears now, but then the background characters needed to be rearranged to balance out the cover. Romita worked up a new cover concept, changing Cap's position and rearranging the background characters. Not quite satisfied, he brought in Dan Adkins to do yet another composition of the background characters before approving the design.

The Words & Pictures Museum is going through a financial crisis, and is in the midst of a campaign to raise the necessary funds to keep its doors open. The museum is non-profit, and serves as a valuable resource for the preservation of comic art, including a huge collection of Kirby originals (which we'll spotlight in our Nineteenth Issue's "Art" theme). Please do your part to sustain it by sending a tax-deductible contribution in any amount to The Words & Pictures Museum, 140 Main St., Northampton, MA 01060.

From Jack Kirby Collector #18

Captain America ™ Marvel Characters Inc.

Art © Jack Kirby.

Sign up here
to receive periodic updates about what's going on in the world of TwoMorrows Publishing.

Click here to download our new Fall-Winter catalog (2mb PDF file)