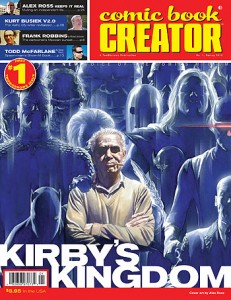 It's the start of something both new AND old today at TwoMorrows. We debut Comic Book Creator, Jon B. Cooke's sequel to Comic Book Artist, our multi-Eisner Award-winning mag of years gone by. Jon's knocked himself out on the first issue, which is (in typical TwoMorrows tendency) Kirby-centric, with a career-encompassing look at Jack's highs and lows, plus interviews with both Alex Ross and Kurt Busiek on their own Kirby-centric work.
We're also offering a free Bonus PDF, which is 32 pages of all-new material that wouldn't fit into the first issue. You can download it at this link, and it serves as a nice sample of what you'll find in CBC #1 proper.
I'm confident you'll love what you see, and Jon's already completed issue #2 (a double-size book tribute to Joe Kubert, debuting in July at Comic-Con), and he's completed all the interviews for issue #3 (which leads off with a lengthy interview with Neal Adams, where he responds to critics of his recent Batman: Odyssey mini-series, among other things).
We're dubbing CBC "The New Voice of the Comics Medium". And as of today, we're ready to unveil that new voice. Enjoy! And order issue #1 here.