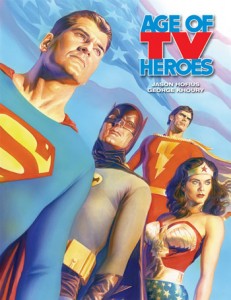 Not a dream! Not an imaginary story or a hoax! AND DEFINITELY NOT AN APRIL FOOL'S JOKE! (We promise!)
Our copies of AGE OF TV HEROES just arrived from our printer late today (Wednesday), and we'll be shipping them out over the next two days. If you preordered from us, look for yours in the mail soon. If you haven't yet ordered it, you can go to http://twomorrows.com/index.php?main_page=product_info&products_id=741 and place your order now, and save 15% off the cover price!
Age of TV Heroes examines the history of the live-action television adventures of everyone's favorite comic book heroes! This handsome full-color hardcover features the in-depth stories of the actors and behind-the-scene players that made the classic super-hero television programs we all grew up with. From legendary shows like The Adventures of Superman and Batman, to the modern era of The Tick and Smallville, it's colorfully presented in vivid detail, lavishly designed with a bevy of color photographs. Included are new and exclusive interviews and commentary from Adam West (Batman), Lynda Carter (Wonder Woman), Patrick Warburton (The Tick), Nicholas Hammond (Spider-Man), William Katt (The Greatest American Hero), Jack Larson (The Adventures of Superman), John Wesley Shipp (The Flash), Jackson Bostwick (Shazam!), and many more, including comments from Reb Brown, Stephen J. Cannell, Chip Kidd, Stan Lee, Noel Neill, John Romita, Alex Ross, Ilya Salkind, Lou Scheimer, Lorenzo Semple, Lyle Waggoner, and other actors, producers, and crew. Re-experience the pop culture birth of the super-hero phenomenon, and relive the first time that these heroes came to life on TV! Written by Jason Hofius and George Khoury, with a new cover by superstar painter Alex Ross!
Full-color HARDCOVER, $39.95 cover price
Thanks one last time for your continued patience on this book; it's been a long wait for some of you, but the book is gorgeous, and I'm confident you're going to love it!