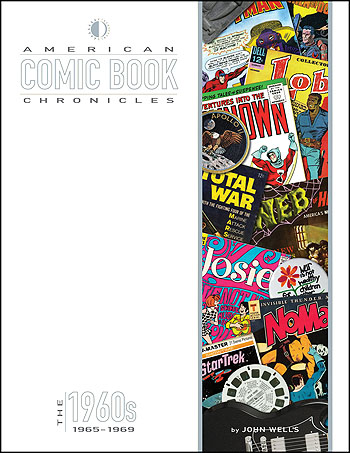 The American Comic Book Chronicles is our ambitious series of full-color hardcovers, where our top authors document each decade of comic book history from the 1940s to present. These books compile over 2000 pages of heavily-researched information, in a friendly, searchable year-by-year format. Taken together, the series forms a cohesive, linear overview of the entire landscape of comics history, sure to be an invaluable resource for any comic book enthusiast.
Now shipping is John Wells' new volume on 1965-69. It covers the transformation of Marvel Comics into a pop phenomenon, Wally Wood's Tower Comics, Charlton's Action Heroes, the Batman TV?show, Roy Thomas, Neal Adams, and Denny O'Neil leading a youth wave in comics, Gold Key digests, the Archies and Josie & the Pussycats, and more. CLICK HERE TO ORDER!
To date, we've released these volumes:
And in August (debuting at Comic-Con) we'll be releasing the 1970-79 volume. The next two years will bring a 1920s-30s volume, two 1940s books, and a 1990s edition to round out the 20th Century. It's the culmination of what I started with TwoMorrows back in 1994.