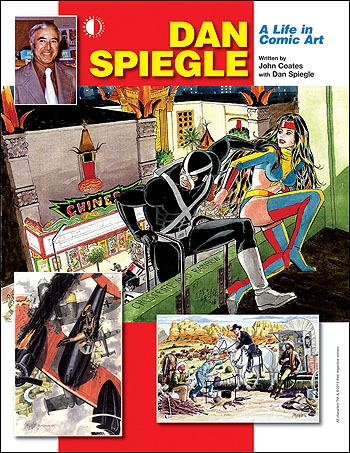 Last weekend, artist Dan Spiegle passed away at the age of 96. You probably remember him from his run on Blackhawk, or DNAgents/Crossfire, or his westerns, or his wonderful Gold Key comics… the list goes on and on.
I'll remember him from working together on John Coates' book Dan Spiegle: A Life In Comic Art, which we published back in 2013. He's the epitome of the type of artist that TwoMorrows strives to bring recognition to: Hardworking, supremely talented men and women who labored their whole lives to bring us exemplary comics art, giving far more to the work than was required to simply earn their paycheck. Dan cared about doing his best on every job, and it shows. I still regret that Dan never got a chance to unleash his talents on Jack Kirby's Kamandi comic. (Jack had originally hoped to launch the series, then turn it over to another artist to draw from his plots/scripts, and Dan was high on the list Jack wanted to see draw it.)
Marie Spiegle, Dan's widow, asks that in lieu of flowers, fans are encouraged to make a contribution in his name to the "Carpinteria Valley Historical Society" and mail it to them at 956 Maple Ave., Carpinteria, California 93013.
Our aforementioned Dan Spiegle: A Life In Comic Art book has been sold out for a while, and the few dinged-up copies we had left sold out last year almost as soon as they were made available. Ironically, we just discovered that Diamond still has a few stashed in their warehouses. If you never picked up this great look at Dan's life and career, this is probably your last shot. Either order it directly from TwoMorrows at THIS LINK, or ask your local comics shop to get it from Diamond using Diamond Order Code MAR131309.
(As per TwoMorrows policy, Dan's wife Marie will continue to receive profits from any copies sold, in print or digital format.)