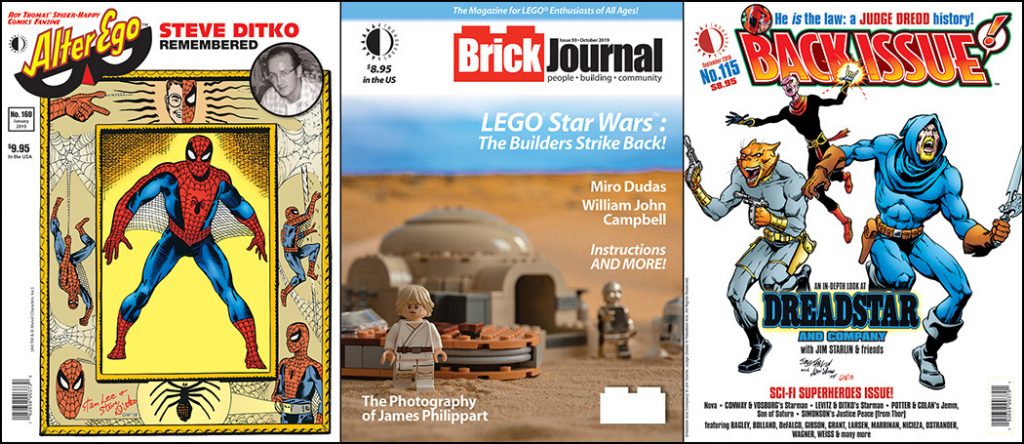 Check out what TwoMorrows Publishing has listed in Diamond's latest Previews catalog!
All our publications are in the front "Comics & Graphic Novels" section, alphabetically under "TwoMorrows".
Use the Diamond Order Codes to order at your local comic book shop, or click the covers below to order directly from TwoMorrows at 15% off!
To see FULL listings of all items, CLICK HERE!
PREVIEWS PAGES 389-390:
MAY192000    ALTER EGO #160 NEW!
MAY192001    BACK ISSUE #115 NEW!
MAY192002    BRICKJOURNAL #59 NEW!
MAY192003    KIRBY & LEE: STUF' SAID (Softcover) NEW EXPANDED SECOND EDITION!
MAY192004    WILL EISNER: A SPIRITED LIFE (Hardcover) NEW LOWER PRICE! $19.99
MAY192005    DON HECK: A WORK OF ART (Hardcover) NEW LOWER PRICE! $14.99
MAY192006    AMERICAN COMIC BOOK CHRONICLES: The 1950s (Hardcover)
MAY192007    MONSTER MASH: The Creepy, Kooky Monster Craze In America, 1957-1972 (Hardcover)
See you next month!