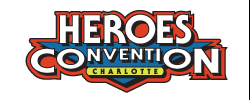 This weekend, we wind down our year-long 20th Anniversary celebration at the first convention TwoMorrows ever attended—Heroes Con in Charlotte, NC! Organizer Shelton Drum has been a big supporter of our company from Day One, and always puts on one of the most exciting (and most fun) conventions around.
Don't get me wrong; this is a BIG convention, with plenty of top guests and attendees all three days. But it's also managed to maintain a lot of the "small con" feel that made conventions so enjoyable in the good old days; heavy comics focus, lots of older creators in attendance in addition to the newer "hot" artists, plenty of back issues to buy, and an all-around "family" atmosphere, where it seems like everybody knows everybody year after year. If the craziness of Comic-Con has you down on conventions, just try Heroes Con once, and I think you'll make it an annual tradition, like we have for the last 20 years. For all the details on attending, go to www.heroesonline.com/heroescon/.
To celebrate our 20th year, we'll be offering 50% off virtually EVERYTHING at our booth. We'll also have the largest contingent of TwoMorrows personnel in attendance of any con in the last decade, though mostly on Saturday only. This includes:
Moi (publisher John Morrow, editor of the Jack Kirby Collector)
Jon B. Cooke (Comic Book Creator editor)
Michael Eury (Back Issue editor)
Roy Thomas (Alter Ego editor)
Eric Nolen-Weathington (Modern Masters editor)
We'll be coordinating and participating on a slew of panels on Saturday in ROOM 203A, including:
10am: Eric Nolen-Weathington moderates a Modern Masters panel spotlighting Lee Weeks and Cliff Chiang.
11:30am: Jon B. Cooke moderates a Denis Kitchen spotlight panel, to coincided with the con debut of Comic Book Creator #5, featuring an in-depth look at Denis' career.
1pm: I'll be moderating a Jack Kirby Tribute Panel, with panelists Jon B. Cooke (longtime associate editor on the Jack Kirby Collector), Roy Thomas (former Marvel Comics editor in chief and top writer, who worked with Jack in the 1960s and '70s), Charles Hatfield (author of Hand of Fire, his acclaimed book on Kirby), Michael Eury (editor of Back Issue magazine), Tom Scioli (Kirby-inspired artist of GODLAND), and Steve Saffel (editor of Titan Publishing's dynamite line of Simon & Kirby Archive Editions).
2pm: Roy Thomas will be featured on a Conan The Barbarian panel, discussing his pivotal work on the Conan comics.
3:30pm: Eric Nolen-Weathington moderates a Modern Masters panel spotlighting Arthur Adams and Mark Schultz.
5pm: I'll moderate a TwoMorrows 20th Anniversary panel to wrap things up, featuring Michael Eury, Roy Thomas, Jon B. Cooke, and Eric Nolen-Weathington. Find out all the stuff we've got planned for 2015 and beyond!
And in-between, all these fine gents will be hanging out at our booth, chatting things up with fans, and showing off their newest issues (some unreleased, but here just in time for the show).