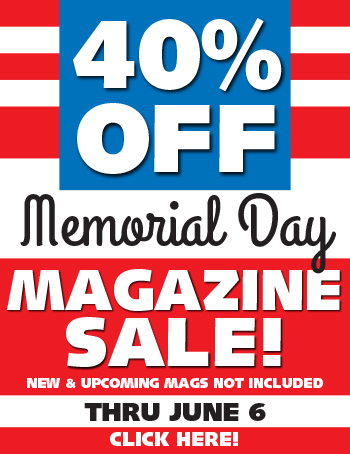 Remember the good old days, when Superman and Batman were friends, and Captain America wasn't a Nazi? If you're having trouble, let us help jog your memory with our Memorial Day Magazine Sale, where our comics (and LEGO) magazines are 40% OFF!
This includes all but the latest (and upcoming) PRINT issues of:
Alter Ego
Back Issue
BrickJournal
Comic Book Artist
Comic Book Creator
Draw
Jack Kirby Collector
Rough Stuff
Write Now & more
It even includes special BOOK-format issues:
Alter Ego: Centennial (a.k.a. Alter Ego #100)
Joe Kubert: Creator & Mentor (a.k.a. Comic Book Creator #2)
Swampmen (a.k.a. Comic Book Creator #6)
Kirby Five-Oh! (a.k.a. Jack Kirby Collector #50)
Lee & Kirby: The Wonder Years (a.k.a. Jack Kirby Collector #58)
The sale runs through June 6, and is for PRINT EDITIONS ONLY, ordered from our website. (New and upcoming issues are not included, but are available at your everyday 15% off discount.)
Have a safe and enjoyable holiday weekend, everyone!