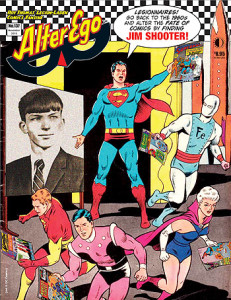 Alter Ego #137, our final new release of 2015, hits stores today. And we're sending the old year out, with a feature-length interview of the one and only Jim Shooter! Jim talks all about his 1960s work for DC and Mort Weisinger, plus delves into 1970s and even 1980s work, so don't miss it! See a free preview and order HERE!
This issue also wraps up the top secret, all-encompassing TwoMorrows Crossover that we've been planning for several months, with a big surprise reveal at the end of the issue. Each of our November-December releases included a special two-page spread that interconnects to form one massive image, showcasing the efforts of nearly 100 of the comics industry's top talents! Make sure you get every part of this "jam" project:
Alter Ego #136 (Part 1)
Back Issue #85 (Part 2)
Comic Book Creator #10 (Part 3)
Jack Kirby Collector #66 (Part 4)
BrickJournal #37 (Part 5)
Draw #31 (Part 6, which contains a key to who drew what)
And the final, big reveal is in this issue (Part 7).
Happy holidays, everyone, and thanks for another great year at TwoMorrows! See you in 2016!