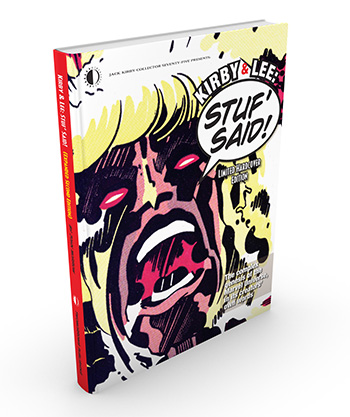 To help pay for the print run, we've bound only 100 hardcover copies of the Expanded Second Edition of Kirby & Lee: Stuf' Said, making it our most limited publication ever. This secret hardcover version is not available in stores, and only directly from TwoMorrows for $39.95. It contains everything in the new Softcover second edition (no extras, other than the custom binding and "Limited Hardcover" designation printed on the cover).
The 100-copy Hardcover Edition is available first-come, first served only at this link!
(Note: If you already pre-ordered the Softcover Second Edition, and would like to upgrade it to this Limited Hardcover, place your order now to reserve a copy, and in the "Comments" box during checkout, write "Please upgrade my pre-order copy" and we'll issue a refund for what you paid for the Softcover version. Sorry, this upgrade offer is not available for First Edition copies.)
If you'd like to order the Expanded Second Edition in Softcover, click here!