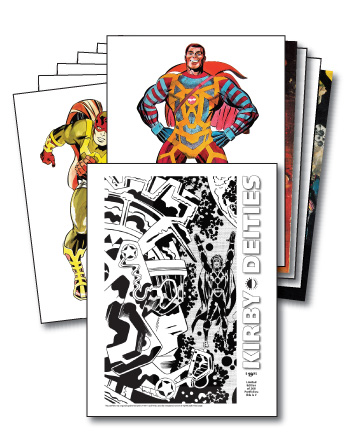 At the New York Comicon, we unveiled a limited edition portfolio, done in conjunction with the release of KIRBY FIVE-OH!. Called KIRBY: DEITIES, it's not sold in stores (only from our website), and is a remastered version of Jack Kirby's 1971 "Disneyland Portfolio", featuring ten 8-1/2″ x 11″ full-color plates in an illustrated envelope, and is limited to just 200 copies.
On April 9-11, 1971, Jack Kirby was a guest at the Disneyland Convention of Nostalgia, held at the Disneyland Hotel in Anaheim, California. For the event, Jack printed a limited edition portfolio of some of his 1960s concept drawings, done while he was still working for Marvel Comics. The originals were inked by Don Heck and Frank Giacoia (and Jack himself), and hand-colored by Kirby, but due to budget restraints, the portfolio's eight plates were printed in black-and-white only, with no envelope. This remastered version has been renamed Kirby: Deities, since the characters Jack created were all proposed "gods" in a new pantheon he was developing in his mind in the 1960s. This version includes two color plates that weren't in the original 1971 B&W version of the portfolio. The 9″ x 12″ black-and-white envelope art was inked by Mike Royer, and was originally used on the mailing envelopes for Jack's 1971 Kirby Unleashed portfolio.
The price is $19.95 plus shipping, and can be ordered now at this link:
http://twomorrows.com/index.php?main_page=product_info&products_id=677
But hurry; we sold a lot at the New York Comicon, and once the remaining copies are gone, there won't by any more.