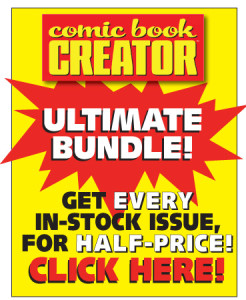 If you're yet to jump on board the COMIC BOOK CREATOR train, you're missing out on Jon B. Cooke's hot new mag (the follow-up to his multi-Eisner Award winning Comic Book Artist).
So we've just made a CBC ULTIMATE BUNDLE available, with all the in-stock issues at HALF-PRICE! (All, that is, EXCEPT CBC #1, which is about to sell out, so if you missed it, order it separately. #3 likewise sold out last week… you've been warned!)
You'll get CBC #2 (our JOE KUBERT double-size special), #4-5, #6 (Swampmen: Muck-Monsters of the Comics), and #7-14, all for only $65! Get it now at THIS LINK.