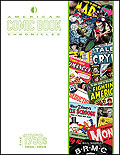 The 1950s volume documents the era of Marilyn Monroe and Elvis Presley, with a year-by-year account of the most significant publications, notable creators, and impactful trends in comics, including EC's Tales of the Crypt, Mad, Carl Barks' Donald Duck and Uncle Scrooge, re-tooling the Flash in Showcase #4, return of Timely's Captain America, Human Torch and Sub-Mariner, Fredric Wertham's anti-comics campaign, and more! Written by the late, great Bill Schelly!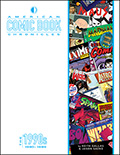 The 1990s volume covers the decade when Marvel Comics sold 8.1 million copies of an issue of the X-Men, saw its superstar creators form their own company, cloned Spider-Man, and went bankrupt. The 1990s was when Superman died, Batman had his back broken, and the runaway success of Neil Gaiman's Sandman led to DC Comics' Vertigo line of adult comic books. Relive all the gimmicky covers, skimpy costumes, and mega-crossovers when companies like Image, Valiant and Malibu published million-selling comic books before the industry experienced a shocking and rapid collapse. Written by Keith Dallas and Jason Sacks.

Preview these full-color hardcovers, and order your copies here:
American Comic Book Chronicles: The 1950s
American Comic Book Chronicles: The 1990s
And don't miss all the other volumes, on the 1940s, 1960s, 1970s, and 1980s!