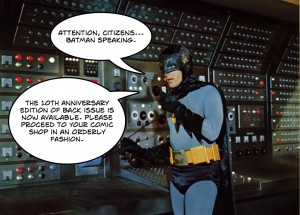 In case you didn't get the message from our friend here, Back Issue #69 celebrates the magazine's 10th Anniversary by revisiting the 100th, 200th, 300th, 400th, and 500th issues of 1970s and '80s comic book favorites.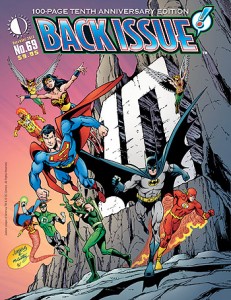 It features articles and spotlights on Comics' Anniversary issues including: Adventure Comics, Amazing Spider-Man, Avengers, Batman, Brave & Bold, Casper, Detective Comics, Flash, Green Lantern, Showcase, Superman, Thor, Wonder Woman, and others. An all-star line-up of interviews and art includes JIM APARO, MIKE W. BARR, STEVE ENGLEHART, KEITH POLLARD, MIKE SEKOWSKY, WALTER SIMONSON, JOE STATON, and MARV WOLFMAN. Plus, this issue closes out the Man of Steel's 75th Anniversary with a guest editorial by LARRY TYE, author of the critically acclaimed book Superman: The High-Flying History of America's Most Enduring Hero. It sports a cover by DAN JURGENS and RAY McCARTHY featuring ten Bronze Age Justice Leaguers—one for each year of Back Issue. Back Issue is edited by former DC and Dark Horse Comics editor MICHAEL EURY, who's put up with me as his publisher for a decade now (which should earn the poor guy some kind of medal).
You can order the issue HERE.