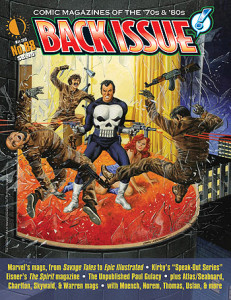 Due to recent changes with our distributors, TwoMorrows is experiencing unprecedented levels of reorder activity on our magazines. Case in point: Back Issue #88, only four months old, is already completely SOLD OUT. Demand was so strong, we couldn't fill Diamond Comic Distributor's reorder, so stores are being shorted, leaving customers disappointed. And we anticipate this happening with other issues of all our magazines for the foreseeable future.
We base print runs on the INITIAL orders from Diamond's PREVIEWS catalog, and the number of subscriptions and pre-orders at press time. Second printings are almost never an option, leaving only the digital version for customers who wait too long to order.
BOTTOM LINE: We can no longer guarantee copies will be available for long after initial release!
To ensure you don't miss an issue:
• Pre-order through our website (www.twomorrows.com) at 15% off
• Subscribe online at: http://bit.do/twomorrowssubs
• Order through Diamond's PREVIEWS catalog as soon as you see each new issue listed
Don't wait for a relisting, convention, or sale, or you may miss out. And if you've held off ordering any recent issues, many are close to selling out, so order now!
Thanks for your understanding, and for making our magazines the Future of Comics History!