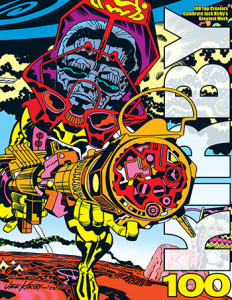 The party starts here! TwoMorrows and the Jack Kirby Collector magazine celebrate Jack Kirby's 100th birthday in style with the release of Kirby100, a full-color visual holiday for the King of comics! It features an all-star line-up of 100 comics pros who critique key images from Kirby's 50-year career, admiring his page layouts, dramatics, and storytelling skills, and lovingly reminiscing about their favorite characters and stories. Featured are Bruce Timm, Alex Ross, Drew Friedman, Walter Simonson, John Byrne, Joe Sinnott, Steve Rude, Adam Hughes, Wendy Pini, John Romita Sr., Dave Gibbons, P. Craig Russell, and dozens more of the top names in comics. Their essays serve to honor Jack's place in comics history, and prove (as if there's any doubt) that Kirby is King! This double-length book is edited by John Morrow and Jon B. Cooke, with a Kirby cover inked by Mike Royer.
Diamond Comic Distributors Order Code: MAY171932
224-page FULL-COLOR Trade Paperback, $34.95 • Digital Edition, $12.95
(Sorry, the Limited Hardcover Edition is sold out!)
You can view a free preview and order HERE!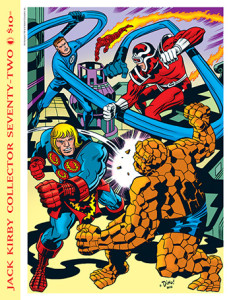 Then tape up your boxing gloves, as Jack Kirby Collector #72 (100 full-color pages, $10.95) takes you to Kirby's Fight Club, showcasing Jack's most powerful fights and in-your-face action! We've got recollections of real-life war experiences by Jack and his contemporaries from the Greatest Generation, Kirby's quick-trigger work on Marvel's kid cowboys, the Madbomb saga and all those negative 1970s Marvel fan letters, an interview with Scott McCloud on his Kirby-inspired punchfest Destroy!!, a rare Kirby interview, the 2017 WonderCon Kirby Panel, Mark Evanier, unpublished pencil art galleries, and more! Cover inked by Dean Haspiel! Edited by John Morrow.
You can view a free preview and order the Print Edition (at 15% off with a FREE digital edition) or Digital Edition Only (just $4.95) HERE!
Order the Print Edition at your local comic book shop using Diamond Order Code: MAY171931
Both will be in stores Wednesday, August 30, and ships directly from TwoMorrows on August 28.