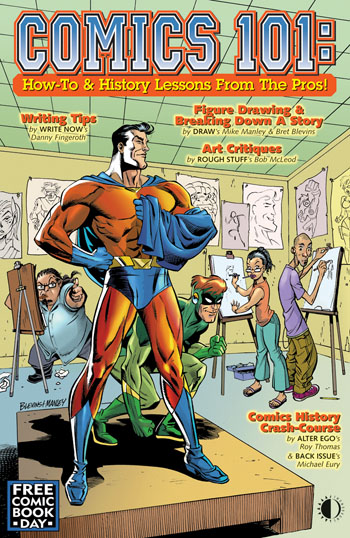 We just sent the final files for Comics 101, our Free Comic Book Day publication, to the printer today. Orders were nothing short of sensational (wish we had numbers like this on our regular magazines!). Be sure to stop by your local comics shop on May 5 and ask for your free copy. Our editors knocked themselves out to come up with some really great "how-to" and comics history pieces, so if you like the kind of stuff we publish, you'll love this one. And of course, the price is right!
We've been getting a lot of e-mails and phone calls, asking if we'll be offering this publication on our website, or making it available for sale. We will have some additional copies available for ordering at www.twomorrows.com starting on May 5, for people who may not live near a comics store (or whose store didn't order any). But there will be a small charge for them (to be determined), to cover our printing and shipping costs. Likewise, if there's any left by then, we'll bring a few to our upcoming convention appearances to sell at a nominal cost. But you can save your money by getting yours at your local comics shop. That's what FCBD is all about; getting warm bodies into comic stores!
Thanks to all the retailers who ordered so heavily; and be sure to thank your local retailer when you get your copy. He (or she) had to pay a small amount per copy to help offset our production costs and Diamond's distribution cost.