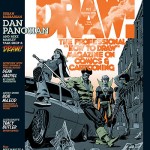 Dan Panosian and Dean Haspiel are on hand to show you how to give comics "true grit" in Draw #21, which ships September 28. Both gents talk with Mike Manley and Danny Fingeroth (respectively) about their working processes, and show a plethora of examples of their varied work. Rounding out the issue is another installment of "Comic Art Bootcamp", as editor Mike Manley and Bret Blevins show you how to convincingly draw hair, while Bob McLeod gives a "Rough Critique" of a newcomer's work.
It's an 84-page magazine with COLOR for $7.95 print edition (with free digital edition if you order from us), or $2.95 for the digital edition alone. You can order directly from us at THIS LINK.
Print version: $7.95 cover price
Digital Edition: $2.95
Diamond Comic Distributors' Order Code: JUN111372
Get a FREE PDF preview HERE.
The issue will debut in bookstores and comic book shops on September 28!