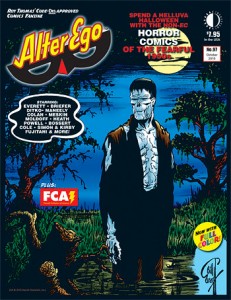 Roy Thomas' ALTER EGO #97 just went to press, and it examines the non-EC Horror Comics of the 1950s, including work from BILL EVERETT, DICK BRIEFER, STEVE DITKO, JOE MANEELY, GENE COLAN , MORT MESKIN, SHELLY MOLDOFF, RUSS HEATH, BOB POWELL, JACK COLE, SIMON & KIRBY, BOB FUJITANI, and others. There's also our usual FCA (Fawcett Collectors of America) section with C.C. BECK and MARC SWAYZE,  MR. MONSTER's COMIC CRYPT, and more, behind a creepy, eerie cover by BILL EVERETT! (This issue's so good, Roy's having us print some extra copies to give out to the guests at the huge Halloween party he and wife Dann are planning!)
Right now, you can download a FREE 6mb PDF preview of the issue at this link:
http://twomorrows.com/media/AlterEgo97Preview.pdf
This preview features a large portion of the main article on non-EC Horror Comics of the 1950s.
The full issue is available for pre-ordering directly from TwoMorrows at this link (print customers will receive a free link to the digital edition):
http://twomorrows.com/index.php?main_page=product_info&products_id=928
ALTER EGO #97 will be on sale in comic book stores on Wednesday, October 13. But why wait? Click the link HERE, and you can order the Digital Edition and read the whole issue NOW for just $2.95.