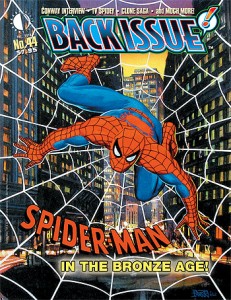 I've just posted a FREE 3mb preview of the "Spider-Clone" roundtable discussion from BACK ISSUE #44. You can download it this link:
http://twomorrows.com/media/BackIssue44Preview.pdf
The Spider-Clone Saga has its origins in Amazing Spider-Man #142 (Mar. 1975), an issue featuring the return of a female looking remarkably like the recently deceased Gwen Stacy. That storyline ended with Peter Parker to fight a clone of himself seemingly to the death, but the Spider-Clone would reappear later in the Spider-Man mythos, as recently as 2009. To get the full story behind the Spider-Clone Saga, interviewer Keith Veronese talked with Gerry Conway about the original 1970s storyline, with Steven Butler and Mark Bagley about the resurrection of the Clone as the Scarlet Spider, and with Howard Mackie, Tom DeFalco, J. M. DeMatteis, Glenn Greenberg, and Danny Fingeroth about the later follow-through of the Clone Saga.
The full issue is available for pre-ordering directly from TwoMorrows at this link (print customers will receive a free link to the digital edition):
http://twomorrows.com/index.php?main_page=product_info&products_id=914
BACK ISSUE #44 will be on sale in comic book stores on Wednesday, September 22.