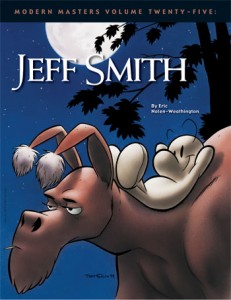 It's hard to believe it's been about a year since our last Modern Masters book (on Guy Davis) shipped. But good old Eric Nolen-Weathington hasn't been sitting around twiddlin' his thumbs. He's just been turning out acclaimed books on Sal Buscema, Carmine Infantino, and others (and hard at work on several you'll see listed in our upcoming new catalog).
The much anticipated Modern Masters book on JEFF SMITH (I hear he created some kinda comic about a bone or something) will be shipping finally on March 2, and we've got a preview of it available now in both PDF and FLASH format at THIS LINK.
Check it out, and order a copy. This is one awfully good MM volume; perhaps the best Eric's ever produced (and that's saying something!).