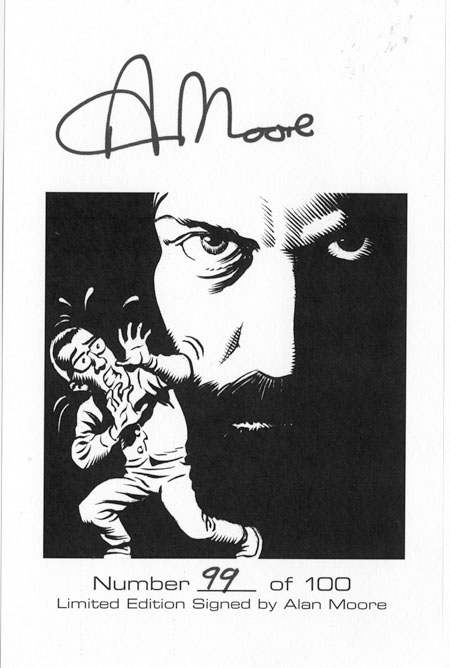 We're auctioning off a limited edition hardcover copy of our new book, The Extraordinary Works of Alan Moore: Indispensable Edition, autographed by "Watchmen" and "V For Vendetta" author Alan Moore. All proceeds from this auction go to THE HERO INITIATIVE, a federally chartered not-for-profit corporation dedicated to helping comic book creators in need. The auction can be found on eBay at this link:
http://cgi.ebay.com/ws/eBayISAPI.dll?ViewItem&item=140305806596
The auction runs through 9:30 PM Eastern Standard Time on Thursday, March 12, 2009. Alan was so generous with his time on the production of our book, and with signing 100 copies of the hardcover for us. So George Khoury and I felt this might be a nice way to give a little back to the industry as well. Since Alan doesn't attend comic conventions, hopefully the relative scarcity of his autograph, mixed with all the hubbub from the film, will carry over and raise some funds for a really worthy cause.
This is #99 of our 100-copy autographed limited hardcover edition, which is the definitive autobiographical book on Moore, in which he reflects on his life and work in an insightful and candid fashion through an extensive series of interviews about his entire legendary career, including new interviews covering his career since the original edition of this book was published in 2003 (where Moore, for the first time, goes into detail about why he distances himself from Hollywood's adaptations of his work). From Swamp Thing, V For Vendetta, and Watchmen to the future of The League of Extraordinary Gentlemen and beyond – all of his most important works and major themes are discussed. Also included are rare strips, scripts, artwork, and photographs of the author, most never published elsewhere, and best-selling author Neil Gaiman headlines a series of tribute comic strips featuring many of Moore's closest collaborators elaborating on their relationship with the writer. Included as well is a color section, featuring the rare Moore story "The Riddle of the Recalcitrant Refuse" (newly remastered, and starring Mr. Monster, with art by Michael T. Gilbert), plus his unseen work on Judge Dredd, and other tales. The book is edited by George Khoury, with a cover by Dave McKean, and includes a numbered art plate, personally signed by Alan Moore.
So get to bidding already!