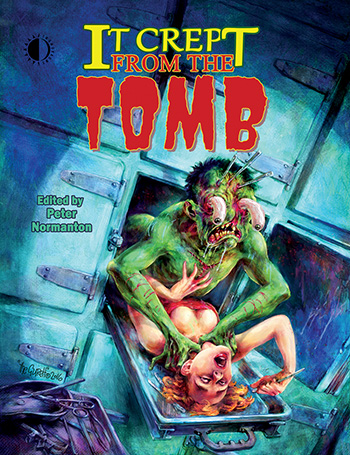 TwoMorrows new book It Crept From The Tomb (the new "best of" collection of the UK's From The Tomb magazine) ships today!
It's a 192-page trade paperback with COLOR, which uncovers atomic comics lost to the Cold War, rarely seen (and censored) British horror comics, the early art of Richard Corben, Good Girls of a bygone age, Tom Sutton, Don Heck, Lou Morales, Al Eadeh, Bruce Jones' Alien Worlds, HP Lovecraft in Heavy Metal, and a myriad of terrors from beyond the stars and the shadows of our own world! It features comics they tried to ban, from Atlas, Charlton, Comic Media, DC, EC, Harvey, House of Hammer, Kitchen Sink, Last Gasp, Pacific, Skywald, Warren, and more from the darkest of the horror genre's finest creators!
You can see a preview of it and order your copy here!