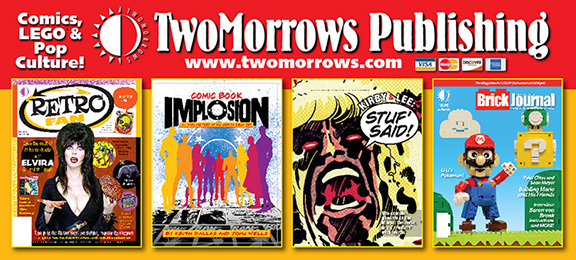 Stop by booth #1301 for specials!
Black-&-white magazines: $3 each
Select books ($20 & under cover-price): only $5
Select books (over $20 cover-price): only $10 (including hardcovers)
And almost everything else at the booth is 30% OFF!
Look for these pre-release titles, with a limited number of debut copies at our booth (get there early!)
Alter Ego #154
Back Issue #106, 107, and 108
Comic Book Implosion
Draw #35
RetroFan #2, just in time for the…
RetroFans Unite! Panel
Friday, July 20, 11:00am, Room 29AB
Remember when Saturday morning television was your domain, tattoos came from bubble gum packs, Slurpees came in superhero cups, and TV heroes taught people to be nice to each other? Those happy days of your childhood in the '60s, '70s, and '80s are the pop culture era celebrated in RetroFan magazine! Join moderator (and TwoMorrows publisher) John Morrow, and some of the crew that covers the crazy cool culture you grew up with: Andy Mangels (bestselling sci-fi author, award-winning pop culture historian), Scott Shaw! (acclaimed cartoonist, Emmy Award-winning storyboard artist), and a special appearance by Back Issue and RetroFan editor Michael Eury (former DC/Dark Horse Comics editor)!
The Eisner Awards!
Friday, July 20, 8:00pm, in the Indigo Ballroom at the Hilton Bayfront
TwoMorrows has TWO nominations in the category of "Best Comics-Related Periodical/Journalism":
• Alter Ego, edited by Roy Thomas
• Jack Kirby Collector, edited by John Morrow
Be there to cheer us on!
The Annual Jack Kirby Tribute Panel
Sunday, July 22, 10:00AM, Room 5AB
Celebrate "The King" of comics' life and work with animation producer Larry Houston, illustrator/historian Arlen Schumer, Rand Hoppe of the Jack Kirby Museum and Research Center, attorney Paul S. Levine, a few surprises, and your moderator, Kirby biographer and assistant Mark Evanier.