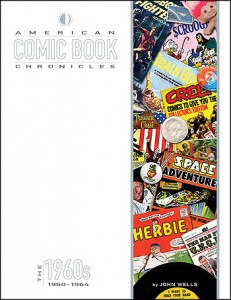 The American Comic Book Chronicles is our ambitious new series, where our top authors document each decade of comic book history from the 1940s to present. In the tradition of such groundbreaking history books as The Steranko History of Comics—which informed a generation of fans in the 1970s about the roots of comic books—these full-color hardcovers will compile over 2000 pages of heavily-researched information, in a friendly, searchable year-by-year format.
NOW SHIPPING: Author John Wells leads off with the first of two volumes on the 1960s, covering all the pivotal moments and behind-the-scenes details of comics in the JFK and Beatles era. The book features a year-by-year account of the most significant publications, notable creators, and impactful trends, including: DC Comics' rebirth of Green Lantern, Hawkman, and other 1940s characters, and the launch of Justice League of America and multiple earths; Stan Lee and Jack Kirby's transformation of superhero comics with the debut of Marvel's Fantastic Four, Spider-Man, Hulk, X-Men, Avengers, and other iconic characters; Batman's 1960s "new look"; the Blue Beetle's resurrection and revamp at Charlton Comics; the debut of Creepy #1 from Warren Publishing, which brought horror back to comic book form; the boom of Harvey Comics' "kid" line or Casper, Richie Rich, and more.
These are just a few of the events chronicled in this exhaustive, full-color hardcover. Taken together, the series forms a cohesive, linear overview of the entire landscape of comics history, sure to be an invaluable resource for any comic book enthusiast.
You can order or see a FREE preview HERE!
1960-64 Volume: (224-page FULL-COLOR HARDCOVER) $39.95
(Digital Edition) $11.95
ISBN: 978-1-60549-045-8 • NOW SHIPPING!
Diamond Comic Distributors Order Code: AUG121321
COMING IN APRIL:
1980s Volume:?(288-page FULL-COLOR HARDCOVER) $41.95
(Digital Edition) $12.95
ISBN: 978-1-60549-046-5
Diamond Comic Distributors Order Code: NOV121322
COMING SOON:
1950s Volume:?Ships Summer 2013
1970s Volume: Ships Fall 2013
1965-69 Volume: Ships Spring 2014
1940-44 Volume: Ships Summer 2014
1990s Volume: Ships Fall 2014
1945-49 Volume: Ships Spring 2015