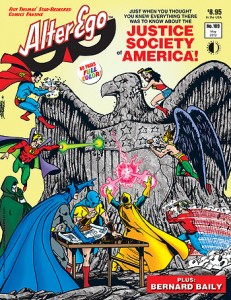 After a customs inspection caused a 3-week delay releasing issue #108, ALTER EGO #109 will be in comic shops next Wednesday, May 16! And in this issue, Roy Thomas does what Roy does best: he offers stellar coverage of the Golden Age Justice Society of America.
So you think, after four All-Star Companion volumes and countless issues of Alter Ego on the topic, that Roy doesn't still have more to say, and artifacts to uncover, about the JSA? C'mon, this is ROY THOMAS we're talking about!
Check out a PDF preview of the issue HERE.