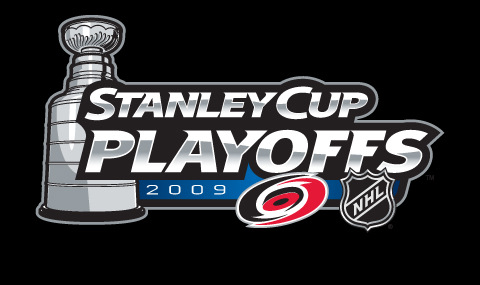 Several years ago, some crazy person decided that here in North Carolina (right in the middle of basketball country), we needed a hockey team. It sounded kinda crazy to me, until I actually went to my first game. Since then, I've followed our Carolina Hurricanes team whenever I could, especially during their big Stanley Cup victory season a couple of years ago.
This year, the 'Canes are in the Stanley Cup playoffs again, having made it through two rounds (with exciting last-minute victories, which they're known for), and start the conference finals tonight against the Pittsburgh Penguins. I'm amazed at how the Hurricanes manage to keep pulling out wins, against teams that, on paper, should be much better than they are. I just wish they'd stop taking it down to the last minute on every series; it'd be nice to win 4 games and move on for once!
I took my family to a fast food restaurant for lunch yesterday, and while I was waiting to order, I looked over and Eric Stohl and Scott Walker (two key Hurricanes, if you don't follow hockey) were standing in line right in front of me. Real nice guys; I chatted with Walker briefly about their Game 7 win in overtime against the Boston Bruins the other night. Before we were done eating, six of the players had shown up there for lunch. One customer who happened to be eating there that day, was wearing his Hurricanes jersey and hat. I sat and watched to see if he'd notice; after a couple of minutes, he happened to look over to the table where the players were, and did a big double-take; it was really fun to watch. As the players were leaving, they ended up signing autographs for several of the customers.
If you've never been to a hockey game, go; I'm confident you'll love it, and it's an entirely different experience from watching it on TV. I never thought I'd be hooked on it, until I saw it in person. Give it a shot sometime!