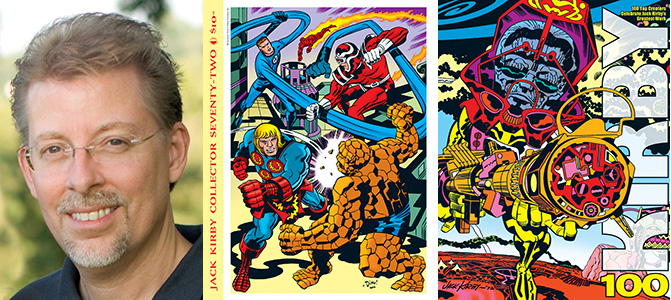 The fine folks at Comic-Con International have invited me to be a Special Guest for this year's San Diego Con! To say I'm overwhelmed by the honor is a colossal understatement, and while I don't want to discount the impact TwoMorrows has made on the industry over the last 23 years, I'm sure the fact that it's Jack Kirby's 100th Birthday also had something to do with it.
When I published (or more accurately, hand-xeroxed and mailed 125 copies of) The Jack Kirby Collector #1 back in September of 1994, I had no idea where it would take me—just that it was my heartfelt tribute to the comics creator who'd had such a profound effect on me. Now, TJKC is taking me back to the event where I finally got to meet Jack and his charming with Roz, and I've been working overtime to make sure I bring something exciting for fans attending the non-stop Kirby Party there this year.
I'm already hard at work on Jack Kirby Collector #72, and Jon B. Cooke and I are close to wrapping up KIRBY100, our all-star celebration by 100 top pros, critiquing key images from Kirby's career. Both of these will debut at the Con, at good old Booth #1301, our usual spot next to the Golden & Silver Age Pavilion.
There'll also be a plethora of Kirby-related panels and events featuring Kirby collaborators, family and friends, and I'm putting together a multi-media presentation about Jack's life and career, and how he's been intrinsically intertwined with just about everything I've done at TwoMorrows Publishing. I plan to take this presentation to several other conventions through the end of 2017, but Comic-Con is the first place I'll be on hand to present it myself.
If you've never been to Comic-Con, and you love Jack Kirby's work, this is the year to go. Scoring tickets is a lot harder than it was in Jack's days there, but trust me: it'll be worth the effort. I look forward to seeing you there!