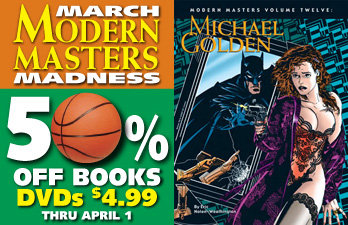 It's March Modern Masters Madness at TwoMorrows (with 50% off books and $4.99 DVDs). With so many volumes on today's top comic book artists, this deal is a slam dunk! They're all under $8 each!
You'll find our full line-up HERE:

and our two "Modern Masters: In The Studio" DVDs:
George Perez DVD (only $4.99)
Michael Golden DVD (only $4.99)
This offer is good for online orders only, through April 1, and does not include standalone Digital Editions (but a free Digital Edition is included with your Print copy where available). SCORE!