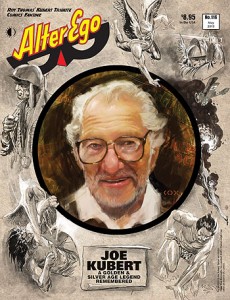 We got our copies of ALTER EGO #116 in a week early, and this one pays tribute to comics artist JOE KUBERT! There's a quartet of interviews with Kubert on the 1940s-1970s career of the legendary artist (and often writer) of Hawkman, Tor, Enemy Ace, Sgt. Rock, Viking Prince, Tarzan, et al.! With added art by RUSS HEATH, NEAL ADAMS, MURPHY ANDERSON, MICHAEL KALUTA, SAM GLANZMAN, and others!  Plus the usual great recurring features (FCA, Mr. Monster, Bill Schelly, and more), all edited up real purty by ROY THOMAS.
We begin shipping copies today, and it'll be in stores in the next 10 days. If you get it at your comics shop, use Diamond Order Code: JAN131395 to order.
Download a FREE PDF preview HERE!
Or order it from us HERE!
Or save the hassle each month (you KNOW you want it!) and get a PRINT or DIGITAL SUBSCRIPTION right HERE!