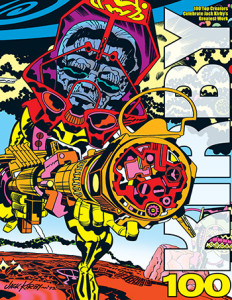 It's finally August 28, so today TwoMorrows and the Jack Kirby Collector magazine celebrate Jack Kirby's 100th birthday in style with the release of Kirby100, a full-color visual holiday for the King of comics! It features an all-star line-up of 100 comics pros who critique key images from Kirby's 50-year career, admiring his page layouts, dramatics, and storytelling skills, and lovingly reminiscing about their favorite characters and stories. Featured are Bruce Timm, Alex Ross, Drew Friedman, Walter Simonson, John Byrne, Joe Sinnott, Steve Rude, Adam Hughes, Wendy Pini, John Romita Sr., Dave Gibbons, P. Craig Russell, and dozens more of the top names in comics. Their essays serve to honor Jack's place in comics history, and prove (as if there's any doubt) that Kirby is King! This double-length book is edited by John Morrow and Jon B. Cooke, with a Kirby cover inked by Mike Royer.
Diamond Comic Distributors Order Code: MAY171932
224-page FULL-COLOR Trade Paperback, $34.95 • Digital Edition, $12.95
(Sorry, the Limited Hardcover Edition is sold out!)
You can view a free preview and order HERE!