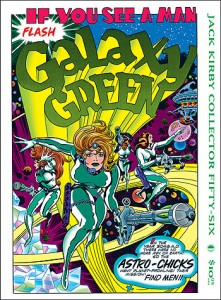 I just wrapped up Jack Kirby Collector #56, and it's off to the printer. What a fun issue! It focuses on Jack's "unfinished sagas"—all those ideas and series that either never got produced, or that he never got to complete properly.
Some would say concepts like his SOUL LOVE blaxsploitation magazine deserve to remain unfinished; we've got a complete story from it in the issue, so you can judge for yourself. Me? I think, once you get past the need for supposedly "hip" dialogue, it's actually pretty solid romance comics (by the guy who co-pioneered the genre, so no one should really be surprised).
There's a free preview available now in both PDF or FLASH format, so check it out. The issue ships March 30.