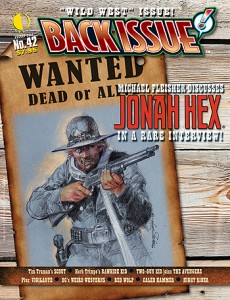 We're about to go to press with Back Issue #42, our "Wild West Issue", and had a perfectly lovely Tony DeZuniga cover illo of Jonah Hex all planned for it, when we designed it several months ago. But back then, we were working from a less-than-optimal scanned image, which worked fine for the small promotional images we use, but wouldn't repro well at full size. We thought we'd be able to get a better scan by presstime, but alas, it didn't happen.
So, the above is our NEW cover art for issue #42; still Tony DeZuniga art, still Jonah Hex, but one that'll reproduce up to our standards. And hey, I think it's arguably an even more dynamic cover than what we'd originally planned. Kudos to designer Michael Kronenberg for the new layout, and to editor Michael Eury for tracking down this alternative DeZuniga image.
And don't miss the new interview with controversial Hex and Spectre writer Michael Fleisher in this issue. He's been missing from the comics scene for around 20 years, and some people even thought he'd gone to the Great Beyond, but we're happy to report he's alive and well, and gives us great insight into his work on Jonah Hex.