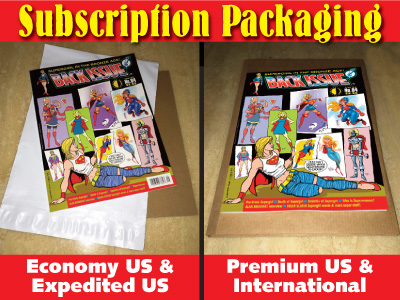 With the new year comes another postage hike by the US Postal Service, so we've had to moderately increase our 2016 subscription rates; just enough to offset our extra expenses (but Canada especially took a big jump in postage).
And above is a look at our official new subscription packaging. To offer the cheapest US postage rates for subscribers, our mags have to be shipped in flexible/bendable packaging to run through the USPS's automated equipment. We've experimented and found a waterproof poly envelope that, when combined with a piece of chipboard, keeps the subscription copies flexible enough to qualify for the lower postage rates, but still protects them from damage from all but the most inconsiderate postal carriers. These aren't the cheap knockoff poly bags (we tried them, and they're lousy), but the top grade ones from Uline, and they've been getting raves from our readers.
We're also offering two upgrades for US subscribers: "Expedited" which gives MUCH faster delivery (think First Class Mail, but still in the flexible packaging), and "Premium", which has the faster delivery, PLUS a sturdy cardboard mailer with reinforced corners for maximum protection. (We use that same mailer for all International subscribers now too, so the mags will survive the long trek outside the US.)
These cardboard mailers are the best we've ever seen, but they're pricey—and they won't go through the US Postal Service's automated sorting equipment, and thus cost more to ship. But if you want the fastest speed and the best condition, be sure to chose "Premium" for your US subscriptions.