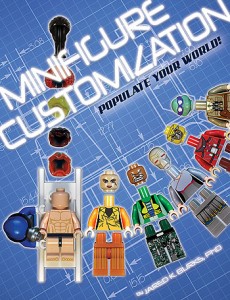 BRICKJOURNAL columnist Jared K. Burks has written the ultimate resource book for minifigure customization, and it's flat out amazing. I'm not personally a hardcore LEGO builder, although I've got a huge level of respect for what our BrickJournal readers create and display at various LEGO fan festivals around the world. But even if you're not into LEGO, take my word for it: check out the free PDF preview of Minifigure Customization: Populate Your World!, which ships May 11. I think you'll be astonished at all the ways he's found to customize those little plastic LEGO people. (I wish I'd known about Kevlar gloves years ago; they'd have saved me a lot of fingertips being sliced off with X-Acto blades!)
The preview alone is worth your time to read, even if you're not interested in buying the book from us. The book itself is only $9.95 print ($3.95 digital), and we're letting current BrickJournal subscribers trade it for one issue of their BrickJournal subscription. Ordering info can be found here.
Jared Burks is a special guest at our own BrickMagic LEGO Festival, here in Raleigh, NC on May 7-8, and giving free minifigure customization workshops. If you've never been to a LEGO Fan Festival, I've just posted a PDF version of the Program Book for our event at this link, so feel free to download it and get an idea of the fun we've got in store for people in a couple of weeks. And hey, if you'd like to attend yourself, go to www.brickmagic.org for all the details, and ticket and hotel information.