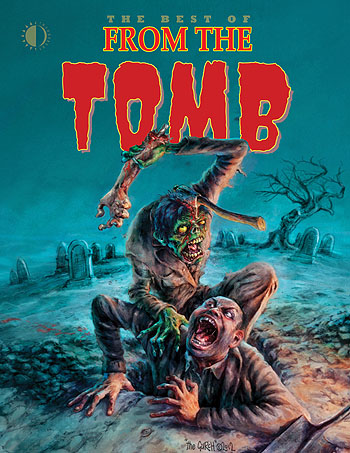 A few years ago, Peter Normanton sent me a couple of copies of his publication FROM THE TOMB from the UK. Immediately, I was surprised by how much I enjoyed it—even though I'm not a huge fan of horror comics, I could see the same love of them in its pages, that I try to evoke about Jack Kirby in the pages of my own mag, the Jack Kirby Collector. (I was likewise taken by surprise years ago when PC Hamerlinck sent me a copy of his FCA-Fawcett Collectors of America newsletter, which gave me the same "zing" when I read it, and which is now an ongoing part of Alter Ego magazine for 100+ issues.)
Roy Thomas got into the mix somewhere along the line, having also enjoyed Peter's mag for a long while, and the idea was tossed around to have TwoMorrows publish From The Tomb here in the US. While that didn't fit my immediate plans, I did suggest to Peter that we do a "Best of" collection, since most US readers have likely never seen a copy of his mag.
So, shipping today is THE BEST OF FROM THE TOMB, a new trade paperback compiling the finest features from the mag's ten years of terror, along with new material originally scheduled to see publication in the never-published #29.
You owe it to yourself to at least check out our free preview, which you can download as a PDF file HERE. And see if you don't get that same appreciation for Peter's amazing work that I did!
If you enjoy it as much as I do, you can order a copy here for immediate shipment, or ask for it at your local comic book shop on Halloween.