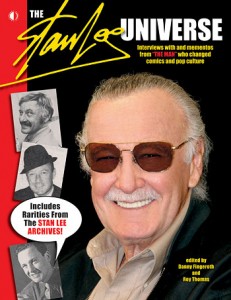 THE STAN LEE UNIVERSE is NOW SHIPPING from TwoMorrows, and should be in comic book stores either tomorrow, or next Wednesday, Nov. 23. It's full of interviews with and mementos about Stan, including PERSONAL CORRESPONDENCE between Stan and such prominent figures as: JAMES CAMERON, OLIVER STONE, RAY BRADBURY, DENIS KITCHEN, ALAIN RESNAIS and (Sinatra lyricist and pal) SAMMY CAHN. Of special interest are transcripts of 1960s RADIO INTERVIEWS with Stan during the early Marvel era (one co-featuring JACK KIRBY, and one with Stan debating Dr. Fredric Wertham's partner)! There's also plot, script, and balloon placements from the 1978 SILVER SURFER GRAPHIC NOVEL, with notes from Lee and Kirby, plus other cool stuff. And it's co-edited by ROY THOMAS and DANNY FINGEROTH, a couple of guys TwoMorrows readers just might've heard of.
It's available in Softcover and Hardcover, and in stock now for ordering HERE.
And you can check out a sneak peek HERE.