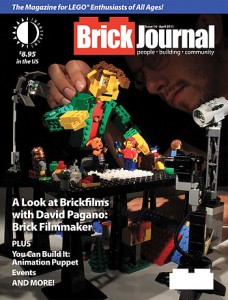 BrickJournal #14 takes you into the world of stop-motion LEGO films, and is guest-edited by renowned brickfilmer David Pagano, who's also our Special Guest at the BrickMagic LEGO Festival here in Raleigh, NC over Mother's Day Weekend this May. (That's David in the shadows on the cover.) If you've ever been curious how they make all those wonderful LEGO films you see all over the Internet, and on the LEGO Club show and on LEGO.com, check out our free PDF preview of the issue:
http://www.twomorrows.com/media/BrickJournal14Preview.pdf
The issue will be available on March 23 in both Print and Digital Editions (print customers will receive a free link to the digital edition), and you can pre-order here:
http://twomorrows.com/index.php?main_page=product_info&products_id=962
And for those of you who are really into brickfilming, you'll want to check out our BrickFlix Film Festival, held the day before the BrickMagic festival on May 4 in Durham, NC at the historic Carolina Theater. David'll be on hand to offer commentary on some of the films at BrickFlix, and taking a Q&A after each showing, as well as hosting a panel at BrickMagic.