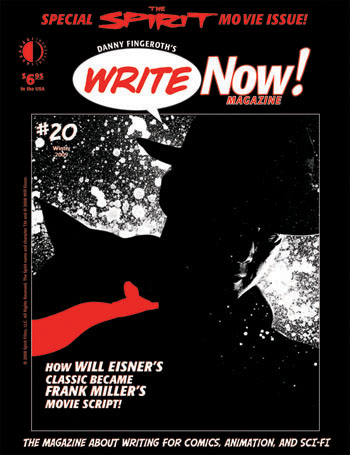 Big announcement: After six years and soon-to-be 20 issues, we've decided to end Write Now! magazine. I've got to say, I'm really sorry to see it go; Danny Fingeroth has been absolutely professional and delightful to work with on it, and always managed to teach me (and his readers, based on the mail we get) something new about the intricacies of writing for comic books and related fields.
The official P.R. about it is below, but let me just say here to all of Write Now's readers, and the many pros who've contributed to the mag: Danny and I greatly appreciate all your support, and we hope you found the mag as rewarding an experience as we both did.
John Morrow, publisher
Write Now!, the professional "how-to" magazine on writing for comics, animation, and sci-fi, concludes its six-year run with TwoMorrows Publishing this February. The final issue, #20, is solicited in the December issue of Diamond Comic Distributors' PREVIEWS catalog, and is available for ordering now.
"Write Now! has had an amazing run, and I'm incredibly proud of what editor Danny Fingeroth has accomplished with it," offered TwoMorrows' publisher John Morrow. "Danny has shaped it into the preeminent publication catering to anyone with an interest in the nuts and bolts of writing for the comics medium. If you've read every issue, you've likely acquired the equivalent of a higher education degree in the intricacies of scripting. But while our readership has been fanatically loyal during its run, both Danny and I feel the magazine has reached a point where the economy is taking a toll on its circulation, and the increasing amount of time involved in its production might be spent more productively elsewhere. So we've jointly decided that #20 will be the last issue."
"Producing Write Now! For TwoMorrows has been one of the highlights of my career," said editor Danny Fingeroth. "The art and craft of writing comics is something that is often neglected due to the higher visibility of comics art. Write Now gave me the chance to share what I've learned about writing over the years with people who are passionate about expanding their writing knowledge and skills. I got to meet and speak with many great creators of all eras during the magazine's run, getting them to speak about what they do in ways that had seldom been touched on before. And, of course, working with the great John Morrow the rest of the TwoMorrows crew was always a pleasure. I look forward to continuing my relationship with this important publishing entity."
Write Now! #20, shipping in late February, features a focus on the upcoming Spirit movie, showing how Frank Miller translated Will Eisner's comics to the big screen, through interviews with key players behind the making of the movie, and a look at what made Eisner's comics so special from a writing standpoint. There's also an interview with Colleen Doran, writer Alex Grecian discussing how to get a pitch green-lighted, plus a bevy of script and art examples from a wide range of projects.
Subscribers will be receiving information shortly regarding the resolution of any prepaid issues beyond #20, with the option of receiving either a refund, or applying their balance toward another TwoMorrows book or magazine.
Back issues of Write Now! are still available from TwoMorrows Publishing's website (www.twomorrows.com) in both print and digital form, and Digital Editions of each issue will be available indefinitely, even after the remaining print copies are sold out. Also available is a Best of Write Now trade paperback collection, and the How To Create Comics, From Script To Print book and DVD combination, co-authored by Write Now! editor Danny Fingeroth and Draw! magazine editor Mike Manley. Fingeroth plans to continue working with TwoMorrows Publishing on several upcoming projects, to be announced in the near future.