Learn more about about the clash over Galactus' origin, Steve Ditko's feelings about his Marvel work, and the impetus for Kirby's notorious "Funky Flashman" parody of Stan Lee!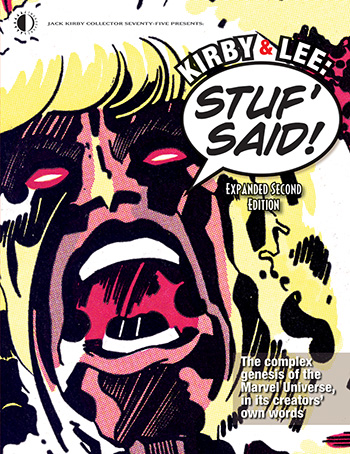 After achieving the quickest sell-out in TwoMorrows' history, KIRBY & LEE: STUF' SAID has gone back to press for an Expanded Second Edition, including minor corrections, and 16 new pages worth of "Stuf' Said" by the creators of the Marvel Universe!
Interspersed chronologically in this updated edition are new and often surprising revelations that've come to light since the first edition took fandom by storm! It's augmented with copious additional comments by Spider-Man co-creator Steve Ditko, more details and Lee and Kirby's clash over the origin of Galactus, and a remarkable find that explains why Kirby decided to bitingly parody Stan Lee as "Funky Flashman" in his Mister Miracle comics series.
You can view a free preview and order the $26.95 print edition (at 15% off with a free digital edition) or digital edition only (just $12.95) at this link!
Or order the Print Edition at your local comic book shop using Diamond Order Code: MAY192003