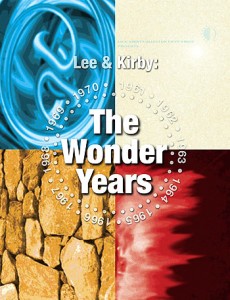 On Dec. 28 (holiday shipping crunch willing), we'll be releasing LEE & KIRBY: THE WONDER YEARS. It's really the 58th issue of my mag, The Jack Kirby Collector, but done as a 160-page squarebound edition this one time.
The whole book is written by Mark Alexander, a longtime TJKC contributor and friend, who died last June, just weeks after handing in the final manuscript to me. I hate that he didn't get to see the final product in printed form, because I know how hard he worked on it. Heck, I know how hard I worked on the layout for it, trying to capture a lot of what Mark and I discussed for the end product. It's a book I'm extremely proud of, and I think Mark would be as well.
It's at the printer now, and since this is the 50th anniversary of the Fantastic Four's debut, I wanted to make sure it was out before 2011 drew to a close. It should just make it under the wire.
The usual: a free PDF preview is HERE. And you can order HERE. Regular Kirby Collector subscribers get it as part of their subscription, but it counts as two issues due to its double-size.
Please give it a look. Mark and I both thought it was an exceptional publication, and I hope you'll agree.